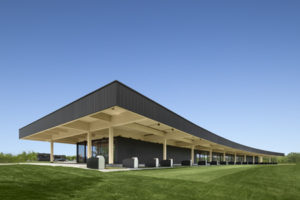 The clubhouse for Golf Exécutif Montréal, located in Québec, is a green oasis in the St. Lawrence River facing downtown Montréal. Designed by Architecture49, the wood-framed building includes sheltered driving-range tees, a bar in the centre of a spacious lounge, a full restaurant kitchen, state-of-the-art golf simulators, a pro shop, offices, and mechanical spaces.
Initially engaged to design a sheltered area for golfers to use in inclement weather, Architecture49 worked closely with the client to extend the program to the creation of a multifunctional building. In the clubhouse's final form, the sheltered driving-range tees back onto the lounge and relaxation areas, creating a unique experience for golfers.
The clubhouse's architectural signature is a direct response to the nature of the project. The building's curve, echoing the driving range, harmonizes with the setting while meeting the needs of golfers. The size of the wooden roof's cantilevers, dictated by the need to provide adequate shelter from the elements, also led to the creation of a contemplative space for golfers. The plan's precision is evident in the clubhouse's ample windows and distinct arrangement of materials including zinc, wood, and glass.
The building's curvilinear layout is structured by traffic areas separating outdoor sporting activities and the clubhouse's interior functions.
Designed to be as flexible as possible, the clubhouse is a gathering place suitable for many kinds of activities and events.
The roof's span is notable for its size and the structural challenge it represents. The successful construction of the roof required precise design work to ensure a harmonious relationship between the structure's exterior and interior proportions. The curves of both the roof and building, back and front, give the clubhouse a refined touch. The electromechanical elements are carefully integrated into the wooden structure, making them disappear and leaving the interior as minimalist as possible. Special care was taken to select materials free of volatile organic compounds (VOCs). Hence, wood was employed throughout the interior (e.g. doors in maple paneling and walls in toasted wood). Further, with the aim of showcasing local expertise, the architects selected local materials, suppliers, and contractors.