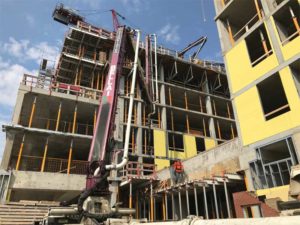 By Roxanne Pepin
Just like new standards and regulations, the adoption of new technologies in the construction industry is a slow process. In fact, one of the main reasons why it can be such a challenge to adopt new standards and regulations is the industry's failure to keep up with technology. Decision-makers in construction are hesitant to let go of traditional design, building, and testing methods. In a world where everything is becoming more connected and new systems are being developed for every facet of life, the use of smart technologies in construction is essential. More specifically, the use of sensors and devices for monitoring and assessing structural and material properties of concrete is essential.
Sensor technology
Granted they are not currently adopted everywhere, smart sensors in construction are becoming more popular as engineers and contractors realize their many advantages. Sensors and devices are being developed for a number of different applications on the jobsite. Some are designed strictly to monitor the properties of concrete during curing, while others are designed to track environmental conditions or project equipment.
When it comes to monitoring the properties of concrete, such as temperature, strength, maturity, moisture content, pH, and relative humidity (RH), sensors can help optimize project schedules, and ensure safety and durability. In some cases, construction companies have been able to save up to four months on the entirety of a bridge or high-rise construction project by using real-time wireless concrete temperature sensors. These sensors are used for monitoring properties starting with the early construction stage during mixing, placement, and curing of concrete. They aid in making the process more efficient by optimizing critical operations. These include ensuring proper moisture content during mixing, and removing formwork and post-tensioning during the building process. The performance and condition of concrete during construction is a major concern for the safety and life of the structure.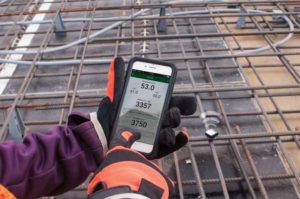 With these wireless sensors, general contractors (GCs) and engineers are able to gather critical data with ease. Traditionally, these sensors are connected via an intricate system of wires and data loggers. In recent years, advancements have facilitated the development of wireless sensors, thereby eliminating the need for data loggers and exposed wires by utilizing smartphone technology. Without the need for wired sensors, many of the challenges associated with them—reading errors caused by wire crossover, accidental damage or cutting of wires, and mislabeled wires—are eliminated. Contractors or workers on the jobsite can connect to these new sensors, download data instantly, and share it wirelessly with the project engineers or office using their smartphone or tablet. Access to real-time concrete temperature and maturity information has helped contractors reduce project schedules by days, weeks, and even months, therefore saving thousands of dollars in operational and laboratory testing costs. Being able to ensure a structure has reached the required strength before moving on to the next phase of the building process helps reduce the margin for error and eliminates safety risks due to stress fractures and slow strength gain.
Other types of sensors have been developed to increase workers' safety on the jobsite by monitoring potentially dangerous conditions such as heat, noise levels, dust, and the presence of hazardous fumes. These systems are equipped to send real-time notifications and alerts to workers, safety managers, and superintendents. They are intended to minimize the risk for potential accidents, and reduce the margin for error. The use of these systems results in an increase in productivity by helping construction managers avoid costly delays and increase safety and satisfaction of the workers by eliminating danger and providing a more favourable work environment. They can also eliminate the hassle of hiring outside consulting services to monitor onsite conditions, which can be time consuming and costly.

Control the content you see on ConstructionCanada.net!
Learn More.