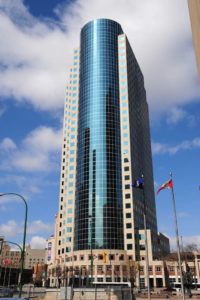 The tallest office building in Winnipeg will undergo the largest elevator modernization project in the city's history.
At 128-m (420-ft) tall, the 33-storey building at 201 Portage Ave. was built in 1990 and features 47,381 m2 (510,000 sf) of office, retail, and meeting space. A contemporary new concourse featuring a modern food market and state-of-the-art conference centre was added in 2017.
TK Elevator Canada will upgrade five high-rise elevators, five low-rise elevators, one service elevator, and one concourse shuttle elevator, which were installed more than 30 years ago.
The upgrades will include installation of TK Elevator's TAC32T microprocessor controller, with diagnostic capabilities to reduce downtime and enable faster floor-to-floor times; a permanent magnet AC motor that only runs when the elevator is in use, reducing energy consumption; a universal door operator for quick operation; and sustainable regenerative drives that harness unused energy captured for reuse in the building while requiring less air conditioning and space.
Other upgrades include LED cab lighting with an optional motion sensor to turn off lights and fans when the elevator is not in use; a dual brake system to prevents unintended motion; an elevator cab door interlock to ensure doors stay closed from inside of the elevator; and a door reversal electronic safety edge, which prevents the car door from making contact with passengers.