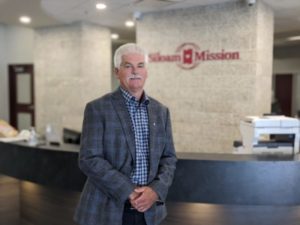 Recently, the Siloam Mission, a Christian humanitarian organization in Winnipeg, opened a new facility offering expanded and integrated services for those experiencing homelessness.
The new Buhler Centre adds 5017 m2 (54,000 sf) of space, which also includes an enhanced health centre and more room for mental health, employment readiness, and spiritual care supports. The building not only expands, but also reorganizes Siloam Mission's services into a more integrated and accessible facility.
The expansion project is designed to achieve 29 per cent energy-efficiency savings, and a reduction in greenhouse gas emissions of 35 per cent relative to the 2015 National Energy Code of Canada for Buildings (NECB).
"In the midst of a challenging time, the opening of the Buhler Centre allows us to continue serving our city's most vulnerable and prioritize safety. We are tremendously thankful to our amazing donors, and partners at all three levels of government. The Buhler Centre would not be here without help from the Governments of Canada and Manitoba, the City of Winnipeg, the many donors to our Make Room Capital Campaign, and, of course, Bonnie and John Buhler," said Jim Bell, CEO of Siloam Mission.
Siloam Mission reached its $19 million goal for the Make Room Capital Campaign in May. Major contributions include a $2.2 million investment from the Canada Mortgage and Housing Corporation (CMHC), a $3 million joint investment from the federal government and Government of Manitoba, additional funding administered through the City of Winnipeg, and a $3 million gift from Bonnie and John Buhler, the largest private gift in Siloam Mission's history.