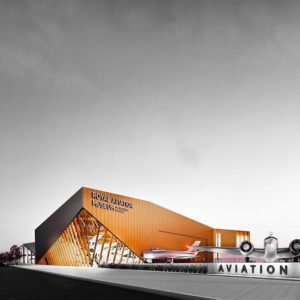 The Royal Aviation Museum of Western Canada in Winnipeg is getting $8.8 million in funding from the federal government for a new two-storey building to accommodate its artifacts.
The museum is home to an extensive collection of aircraft ranging from transport to military, private and commercial, as well as thousands of aviation artifacts.
A new facility of approximately 7990 m2 (86,000 sf) will be built to house current and future artifacts. Once complete, the public will have access to interactive spaces, classrooms, a library, special exhibitions, and galleries. The second floor will feature an observation deck with views of the aircraft runway and the main aircraft display space on the first floor.
Architecture49 has designed the project with Reich&Petch and Lavergne Draward & Associates (LDA Engineering) as structural engineers.
"This is an extraordinary day in Canada's aviation history," said Terry Slobodian, CEO of the Royal Aviation Museum of Western Canada. "We will soon begin the construction of an aviation adventure and signature attraction to house this world-class collection of pioneering aircraft as a beacon of inspiration and learning for generations to come."
The museum is scheduled to open in 2021.