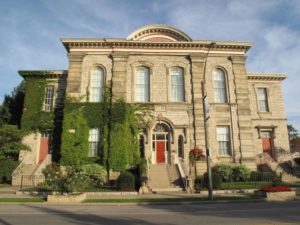 The City of Windsor awarded the historical Mackenzie Hall, recognizing a masonry rehabilitation project led by Goldsmith Borgal & Company Ltd. Architects (GBCA) and studio g+G inc. on the site to rectify the disrepair from the use of cementitious mortar in a 1980s renovation.
The building was extensively renovated in the 1980s—this included the addition of a stone clad extension along the south side of the original building. Unfortunately, the repairs introduced inappropriate hard cementitious mortars which ultimately caused severe deterioration to the stone walling and decay at the wooden windows.
The work on Mackenzie Hall presented a unique opportunity for the architectural team at GBCA and studio g+G who were initially contracted to replace the restoration windows. However, upon investigation, the team concluded the project needed to be redirected to solve the underlying problem of the rotting wooden windows, which was brought to its damaged condition due to moisture retention in the stone walls from the 80s renovation. The team then provided forensic analysis, construction/restoration documents, and an oversight of the masonry rehabilitation project on Mackenzie Hall.
The cultural centre is one of the first heritage-designated properties of Windsor, built in 1855 by Canada's second prime minister, Albert Mackenzie and his brother. The architect was A.H. Jordan, and both the architect and builder names were engraved onto the building.
"In heritage consulting, we work within the legacy of others," commented Christopher Borgal, president and senior principal of GBCA. "In the Mackenzie Hall project, we had to span a century of work—from the 1880s to the 1980s—to prepare a holistic and comprehensive technical approach for the rehabilitation and repair of the envelope."
Jason Grossi, founding principal of studio g+G said: "At studio g+G, the true meaning of our work is what we have to give and leave behind. We always try to design with thoughtful integrity so our buildings will endure and be loved and doing this in my hometown of Windsor just makes it better. I am honoured our work has been recognized by my community."