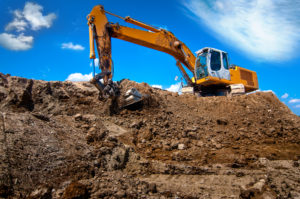 A recent report from the Residential and Civil Construction Alliance of Ontario (RCCAO) is grounded in an often-overlooked concern: construction soil. "2017 Update: Quantification of Excess Construction Soils in Ontario," by environmental lawyer and engineer Frank Zechner, updates a 2012 report on excess construction soil generation with modern statistics at RCCAO's request.
Previous estimates from 2010—predicting production of 20 to 24.6 million m3 (706.2 to 868.7 million cf) excess soil—have been surpassed. In this new report, Zechner estimates 25.8 million m3 (911.1 million cf) of excess construction soil was generated in 2015 alone. This is enough soil to fill Toronto's Rogers Centre 16 times.
"Movement of soil is a pressing issue across Ontario, and you can't create effective management tools without knowing the quantity and quality of the soils being generated," said Zechner. "The province does not collect data or track excess soil volumes from infrastructure and development activity. This research helps to fill that void. These are primarily clean soils, and can be reused onsite or at another construction project with proper planning."
RCCAO, along with the Ministry of the Environment and Climate Change (MOECC), is working to alleviate this lack of tracking. The Excess Soil Management Policy Framework the organizations seek to implement, as well as the 'Soils Ontario' group they propose, would involve introduction of a soil-tracking system and an online soil-matching registry. Ideally, limiting the amount of soil sent to landfill would also reduce emissions from trucks.
"A lot of excess construction soil is disposed of, when it is actually a valuable resource," said Andy Manahan, RCCAO's executive director. "We would like to see municipalities use best management practices (BMP) wording in tender and soil by-law documents. Our main objective is to reduce the current 'dig-and-dump' approach, as this results in a range of negative consequences."