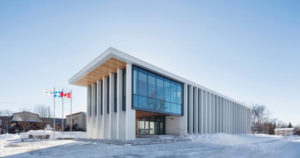 Earlier this month, construction was completed on Rigaud City Hall, a new civic administration facility for a small Québec community. Designed by Affleck de la Riva Architects, the urban redevelopment project proposes the reorganization of a section of the historic village centre and the city hall building.
A pedestrian promenade in the 975-m2 (10,500-sf) city hall connects existing public amenities with new facilities, redevelops several vacant lots, and links the heart of the village to the Rigaud River. White on white, the building evokes clarity, honesty, and freedom of expression, and blends into the northern landscape of the Ottawa Valley.
The fully glazed council chamber is suspended above the plaza and main entrance to the city hall, making it highly visible from neighbouring streets. The east and north façades of the building are punctuated by a white aluminum colonnade. The columns give way to white masonry on the other façades. The integration of the logo of the City of Rigaud in the masonry of the north façade adds a touch of colour.
The bioclimatic architecture of the building responds to climatic realities and provides comfort to its users. The building's integration into the site's topography creates three levels and buries the first level on the north side. Technical rooms are located in the buried area, while the offices on the south side are distributed over three floors with natural lighting and passive solar gains offered on each level.