Waterproofing for concrete parking structures: A comparison
by Katie Daniel | May 28, 2018 10:33 am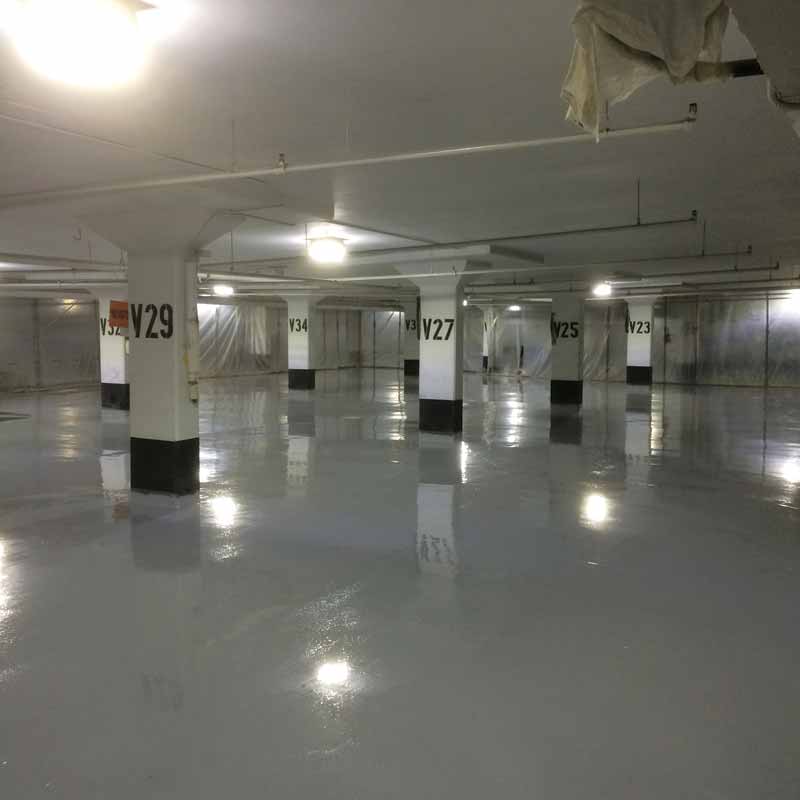 By James Cooper, P.Eng., LEED AP O+M
Owners, engineers, and contractors involved in the design, operation, maintenance, and restoration of parking garages and building podium decks need to understand the role and importance of waterproofing systems in protecting these facilities. When there is a lack of proper attention to these systems, repair and maintenance costs increase and anticipated service lives suffer.
Methods of protection for parking garages and podium decks have evolved and changed dramatically over the past 30 years. Old ways of thinking and design have given way to new understandings of deterioration mechanisms and protection needs—some of which are reflected in new requirements in the Canadian Standards Association (CSA) S413, Parking Structures. The increased understanding of how moisture and de-icing salts accelerate deterioration in concrete and steel structures has encouraged growth in this sector. The long-term performance of these buildings is directly related to the effectiveness of the waterproof barriers utilized to prevent moisture and de-icing salt contamination, as well as the management of the salt-laden water entering the facility.
By effectively protecting the structure and maintaining waterproofing systems in a state of good repair, owners can slow down the rate of deterioration and allow for safe, uninterrupted use of the building for a long time. The structure's protection also ensures stability in the value of the asset by limiting deterioration and closures, and reduces long-term capital expenditure costs. On the other hand, the failure of waterproofing systems often results in economic losses, including damage to building occupant vehicles, expensive structural repair costs, and opportunity losses during repair work as a result of parking garage closures. A functional waterproofing system is, therefore, the front line of defence for any structure subjected to vehicle use and de-icing salts.
Understand one's needs
Deciding to protect a structure with a waterproofing system is a simple and necessary step. However, determining the specific waterproofing requirements to meet the structure's needs for the long term is more difficult. It is important to understand the critical elements to look for in an effective waterproofing system.
Prevent leakage
The obvious purpose of a waterproofing system is to prevent the flow of water and dissolved salts into and through the structure onto vehicles or into the occupied space below. Careful consideration and effective detailing at termination points, drains, pipe penetrations, cracks, and joints are required.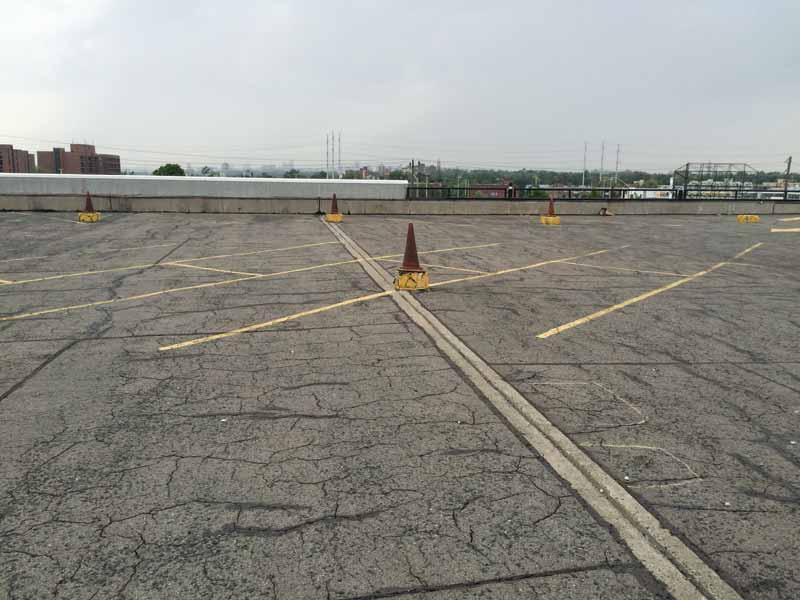 Prevent chloride (salt) ingress at cracks
Nearly all parking garage surfaces are concrete. With very little exception, concrete does one thing really well—cracking. An effective waterproofing system must therefore bridge cracks, which will open and close as a result of temperature changes and cyclical loading over the structure's lifespan. If the system cannot continue to bridge cracks, it becomes an easy avenue for moisture and chlorides to circumvent a surface-applied waterproofing system.
Provide a non-slip surface
Slip resistance is important for vehicles and pedestrians as they travel through a structure. Health and safety of users is negatively impacted if a waterproofing system becomes slippery—when wet or with time. Therefore, initial and long-term slip resistance mechanisms are necessary.
Provide a durable wearing surface
A poorly designed waterproofing system can wear with use, or deteriorate due to specific environmental factors. Accelerated wear and deterioration may significantly impact performance and service life. A waterproofing system must withstand the aggressive environment in which it operates, retain adequate functionality, and meet its required service life. Worn waterproofing may quickly lose slip resistance, and deteriorated installations cannot effectively prevent moisture and chloride ingress into the structure. Critical areas with increased vehicle loading (e.g. loading docks, truck traffic areas, and drive aisles) often require more robust designs to meet similar service lives as other areas.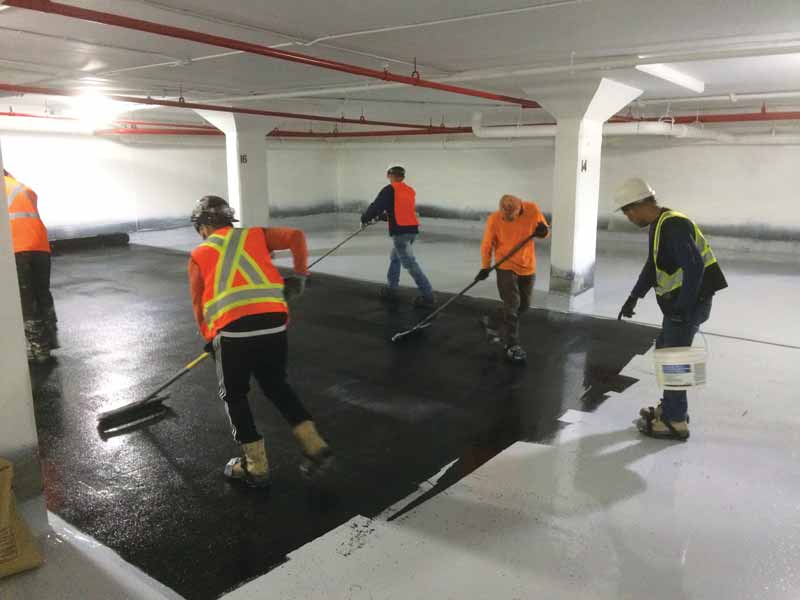 Obtain required bond strength
A waterproofing system is only going to provide protection when it remains bonded to the surface on which it is installed. A system that does not stick will fail to adequately protect the structure below. Therefore, a waterproofing assembly must be selected based on achievable substrate preparation requirements because site constraints can inhibit the preparation work needed for a specific system. Such constraints can include restrictions on large construction equipment, noise/dust generating restrictions due to occupancy, or schedule constraints that may fast track repairs.
Consider snowplow resistance
A waterproofing system must be specially designed to resist damage and perform adequately on open parking and podium decks as well as roof parking levels where snow removal is undertaken. It is equally important to have a proper maintenance plan to ensure snow removal is undertaken with minimal impacts to the waterproofing. A hard wearing surface and high bond strength will often correlate with damage resistance. Ideally, the waterproofing layer will be physically separated from the driving surface by a topping or asphalt wearcourse to provide greater protection against snowplows.
Provide ultraviolet stability
A waterproofing system exposed to sunlight must withstand the damaging effects of ultraviolet (UV) radiation because sunlight can physically break down some waterproofing systems and reduce their effectiveness. Additionally, UV radiation can cause discolouration and other surface distress.
Ensure ease of maintenance and repair
Most waterproofing systems require localized repair and maintenance at some time during their anticipated lifespan to address localized deterioration and achieve the overall service life. A key consideration is how easy and cost-effective it will be to address potential deterioration. Each waterproofing system requires a specific repair approach that will impact the structure's operation in different ways and costs.
Code compliance
New parking structures must have waterproofing systems designed to be in conformance with CSA S413. This standard includes minimum design requirements to increase performance levels and durability. Attention to these code requirements is required to ensure proper implementation.
Cost
A waterproofing system should be economically feasible or it is of no use. The type of property and its expected service life may dictate the suitability of a high- or low-cost option (i.e. a class "A" commercial property compared to a mid-rise condominium building). However, high cost does not solely correlate to effectiveness for a particular situation.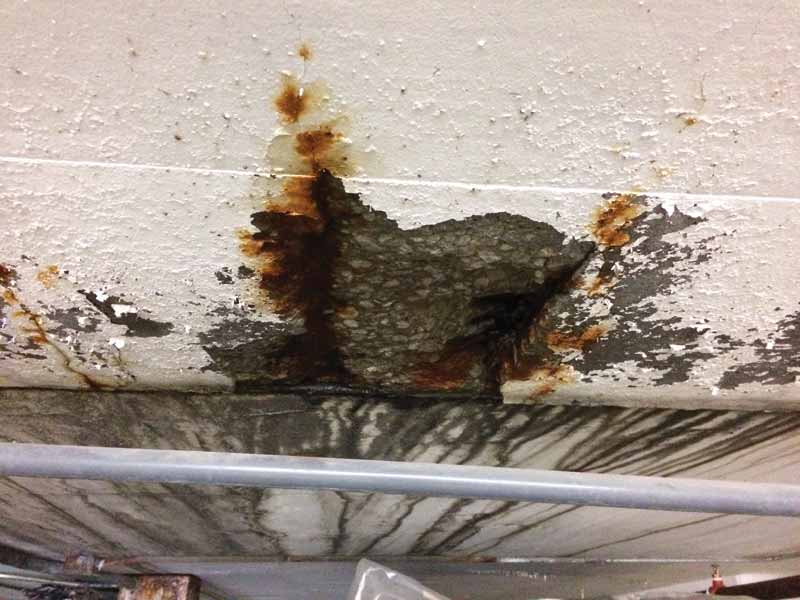 Traffic-bearing waterproofing systems
Waterproofing systems are often multilayered to obtain the benefit of distinct physical properties. Systems must be flexible, soft, and elastic to accommodate movement of the structure as a result of thermal and loading changes. At the same time, they must also be hard, strong, and durable to deal with vehicle wear and tear, snowplows, and environmental factors. These are seemingly competing properties and it may be hard to picture them working together as part of a seamless waterproofing system. To achieve both requirements, the properties are integrated at different locations: at the surface of the structure as a waterproofing membrane layer, and above this as a wearing surface.
Membranes
A typical waterproofing system consists of a flexible, fully waterproof barrier membrane located at the surface of the concrete slab. The membrane must be flexible and elastic to effectively prevent the ingress of moisture and chlorides into the structure and also withstand movement of the structure and cracks without tearing and cracking itself.
Wearcourse
The wearcourse is the component of a waterproofing system withstanding the abuse of the aggressive environment it is in. It is typically intended to protect the membrane from physical damage as a result of vehicular traffic. The wearing surface may be installed directly on, and bonded to, the membrane or may be physically separated from the membrane. The installation type depends on the system and design. While it may sound advantageous for the wearing surface to move with the structure and bridge cracks, it would then lack the other key characteristics required to handle vehicle loading (hard, durable, and impact- and slip-resistant).
Designing the system
Selecting the right waterproofing system is a challenge always unique to the structure, the owner's needs, and environmental factors in the installation environment. Proper selection requires a thorough understanding of available products and their performance characteristics.
Waterproofing systems are broadly grouped into two categories—thin and thick. These groupings have various systems within them comprising different materials affecting their properties and performance in various environments.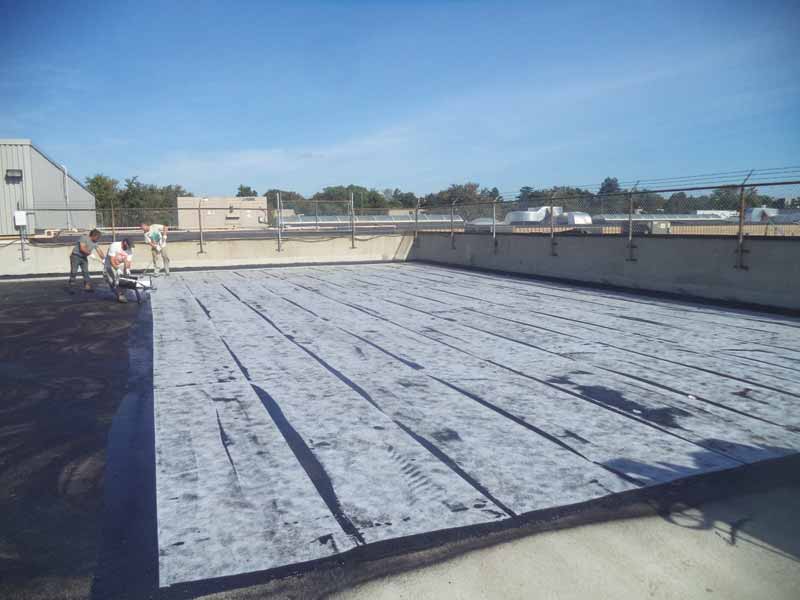 Polyurethanes
These are the typical "thin systems" on the market, and their chemical makeup includes:
primer: a polyurethane-based adhesive used to improve bond;
membrane: a two-component, fast-curing, polyurethane basecoat designed with excellent elongation properties;
wearcourse (interior): a two-component, fast-curing, aromatic polyurethane topcoat with high tensile strength and excellent tear and abrasion resistance; and
wearcourse (exterior): a two-component, high-solids, aliphatic urethane waterproofing membrane.
These systems have urethane membranes and wearcourses fully bonded together as part of a single assembly. These systems are liquid applied with squeegees and rollers, have very high bond strengths to the concrete surface (>1.4 MPa [203 psi]), are comparatively thin (1.5 to 3 mm [60 to 120 mils]) and lightweight.
Hot-rubberized asphalt
Asphaltic waterproofing is typically considered a "thick system" as the finished assemblies can range from 20 to 150 mm (0.78 to 6 in.) or more in thickness. These systems consist of a rubberized asphalt waterproofing membrane overlaid with a wearing surface (e.g. mastic, asphalt, concrete, or interlocking pavers). The hot-rubberized asphalt waterproofing is liquid applied with squeegees and reinforced with fabric. There are distinct advantages and disadvantages to each type of wearing surface including varying performance levels, weights, and anticipated lifespans. For example, a concrete topping installed above a hot rubberized waterproofing system provides a durable and long-lasting surface, which will withstand impact and not be prone to wearing. These systems can also utilize both electric or glycol embedded snow melting systems, thereby reducing the need for de-icing salts, and can significantly improve the slip resistance of ramps and loading areas.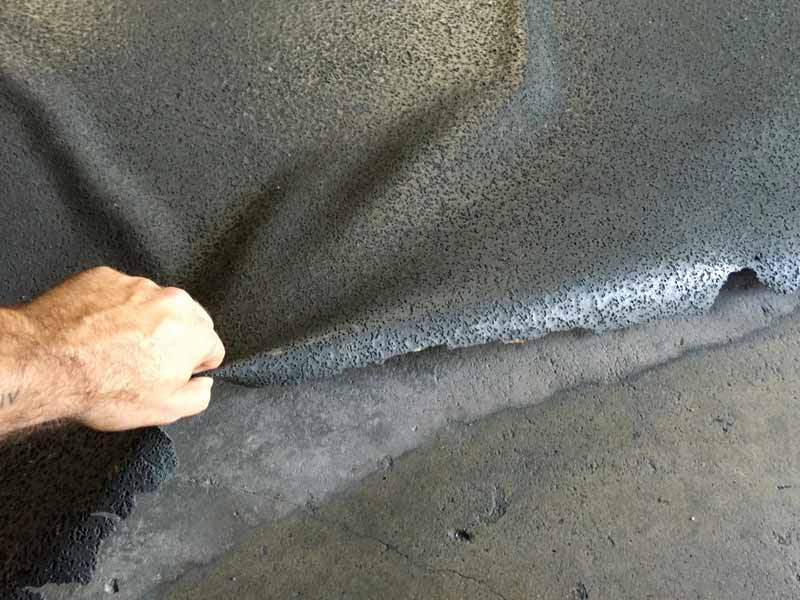 New technologies
Most of the existing waterproofing systems have weaknesses, such as:
components are easily worn;
susceptible to impact damage;
too heavy for a structure;
too thick, leading to clearance issues;
require a long curing period; or
have disruptive smells.
Additionally, some application locations may require specialized approaches with innovative technologies to meet owner and user needs, as well as provide minimal shutdown periods, longer-term performance, and reduced maintenance cycles. Polyurethane-methacrylate (PMMA) thin traffic deck coating is a new technology attempting to address some of these barriers in the North American market.
PMMA
A PMMA assembly provides additional durability in areas where normal polyurethane systems may wear prematurely, such as the base of entrance/exit ramps, turning radii subjected to heavy traffic, and drive lanes that cannot be readily phased without impacting operations. One of the primary benefits of this system is installation can be accomplished in hours rather than the several days required for a typical polyurethane system. This can considerably limit disruption to an existing building.
These systems typically consist of a methyl methacrylate (MMA) primer, a modified polyurethane methacrylate basecoat and wearcoat, and a 100 per cent MMA topcoat. Based on observations of these systems to date, the MMA offers excellent abrasion and chemical resistance and UV stability, greatly exceeding typical polyurethanes. Methacrylates are long lasting, stable compounds that do not change over time, and provide excellent resistance against abrasion, wear, stability against sunlight, and air-oxidation.
Hybrid thin traffic deck coating
Another new technology is a hybrid epoxy and polyurethane waterproofing system comprising a flexible polyurethane basecoat and epoxy topcoat. The basecoat provides the required flexibility and crack bridging while the topcoat is highly durable and resistant to abrasion and impact. This system also has a fast application and cure time.
It consists of a two-component polyurethane-based adhesive primer, a two-component fast-curing polyurethane basecoat, and a two-component fast-curing epoxy topcoat with limited movement capability and superior abrasion resistance.
Conclusion
Figures 1 and 2 provide a quick reference for the different waterproofing systems and their susceptibility to common problems, typical application times, relative installation costs, and anticipated service life. This should serve as a quick reference for designers and specifiers when determining an appropriate waterproofing system for a project. The development of new technologies has focused on addressing specific issues, but at this time, these technologies are limited to a very niche market as a result of limited suppliers and installers as well as a price point that is significantly higher than competitive systems.
Parking garages are designed to serve a wide variety of users and are either required for residents or designed to generate revenue for owners. There are many waterproofing systems available on the market, but it is important to know the suitability of each system and its limitations. Also note, all parking structure waterproofing systems must be designed by qualified engineers and installed by qualified applicators.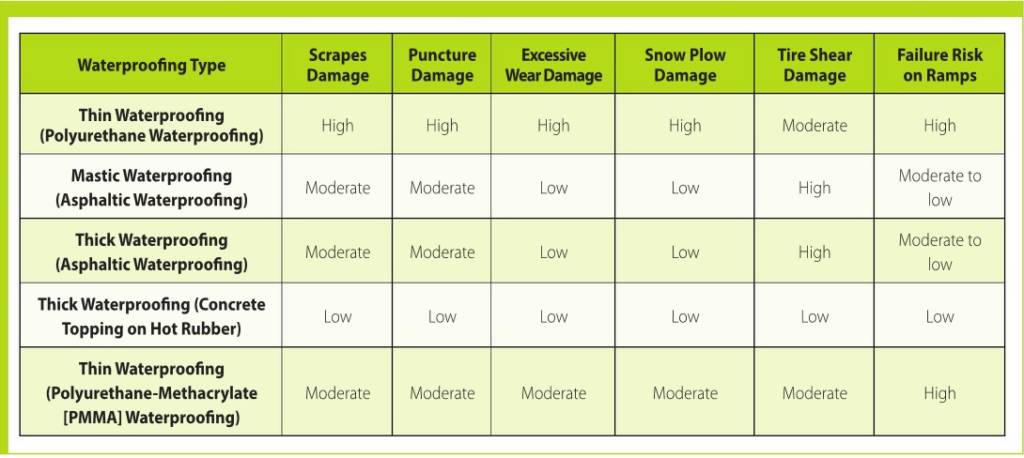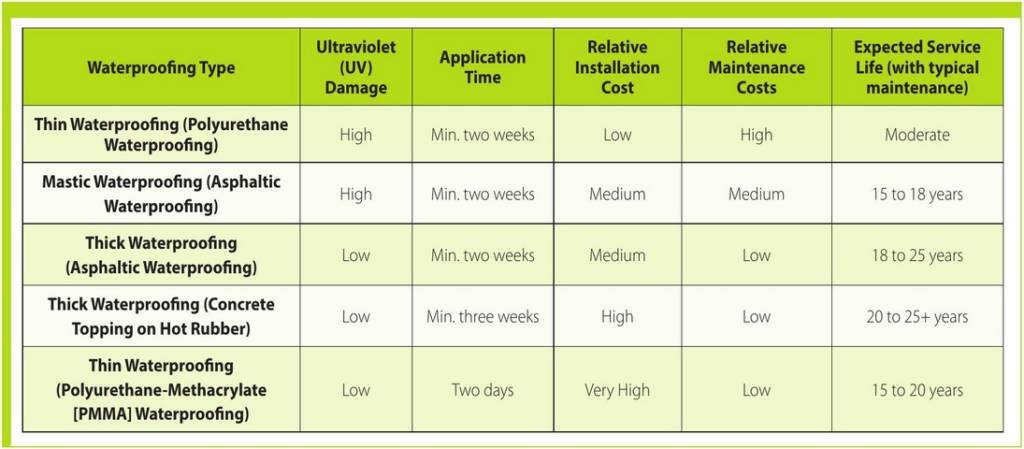 An associate at RJC Engineers, James Cooper, P.Eng., LEED AP O+M, is responsible for managing projects from start to finish, including assessments, design, tendering, construction contract administration, and project close-out. Cooper has held multiple positions including project engineer at RJC Engineers since he joined the company in 2005 after graduating from the University of Toronto. He has more than 12 years of experience in the field of structural restoration and waterproofing, and has been involved in rehabilitation/retrofit projects throughout his career. A licensed professional engineer, Cooper is a member of the Professional Engineering Association of Ontario, and a Leadership in Energy and Environment Design (LEED) accredited professional with the specialty designation of Operation and Maintenance of existing buildings. He can be reached at jcooper@rjc.ca[9].
Endnotes:
[Image]: https://www.constructioncanada.net/wp-content/uploads/2018/05/thin6.jpg
[Image]: https://www.constructioncanada.net/wp-content/uploads/2018/05/thick1.jpg
[Image]: https://www.constructioncanada.net/wp-content/uploads/2018/05/thin11.jpg
[Image]: https://www.constructioncanada.net/wp-content/uploads/2018/05/Leaks.jpg
[Image]: https://www.constructioncanada.net/wp-content/uploads/2018/05/Hot-Rubber-Install.jpg
[Image]: https://www.constructioncanada.net/wp-content/uploads/2018/05/Thin-11.jpg
[Image]: https://www.constructioncanada.net/wp-content/uploads/2018/05/fig1.jpg
[Image]: https://www.constructioncanada.net/wp-content/uploads/2018/05/fig2.jpg
jcooper@rjc.ca: mailto:jcooper@rjc.ca
Source URL: https://www.constructioncanada.net/waterproofing-for-concrete-parking-structures-a-comparison/
---