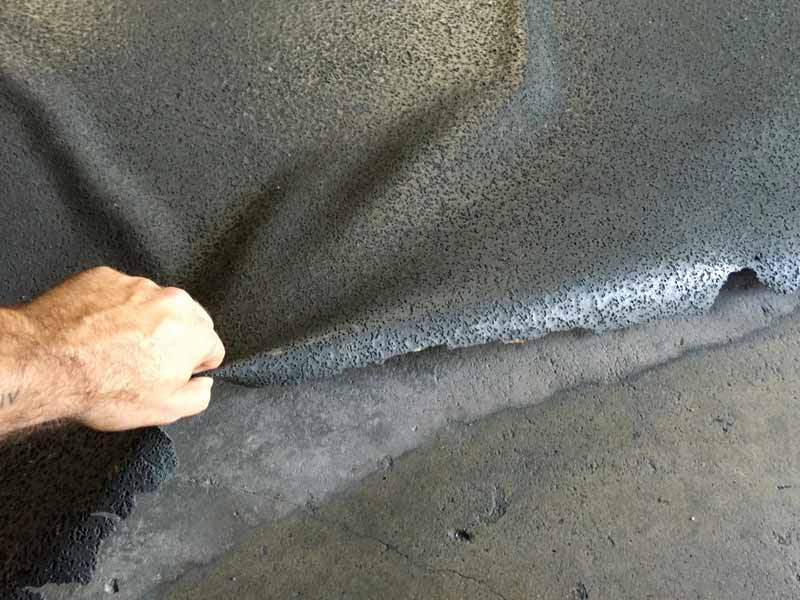 New technologies
Most of the existing waterproofing systems have weaknesses, such as:
components are easily worn;
susceptible to impact damage;
too heavy for a structure;
too thick, leading to clearance issues;
require a long curing period; or
have disruptive smells.
Additionally, some application locations may require specialized approaches with innovative technologies to meet owner and user needs, as well as provide minimal shutdown periods, longer-term performance, and reduced maintenance cycles. Polyurethane-methacrylate (PMMA) thin traffic deck coating is a new technology attempting to address some of these barriers in the North American market.
PMMA
A PMMA assembly provides additional durability in areas where normal polyurethane systems may wear prematurely, such as the base of entrance/exit ramps, turning radii subjected to heavy traffic, and drive lanes that cannot be readily phased without impacting operations. One of the primary benefits of this system is installation can be accomplished in hours rather than the several days required for a typical polyurethane system. This can considerably limit disruption to an existing building.
These systems typically consist of a methyl methacrylate (MMA) primer, a modified polyurethane methacrylate basecoat and wearcoat, and a 100 per cent MMA topcoat. Based on observations of these systems to date, the MMA offers excellent abrasion and chemical resistance and UV stability, greatly exceeding typical polyurethanes. Methacrylates are long lasting, stable compounds that do not change over time, and provide excellent resistance against abrasion, wear, stability against sunlight, and air-oxidation.
Hybrid thin traffic deck coating
Another new technology is a hybrid epoxy and polyurethane waterproofing system comprising a flexible polyurethane basecoat and epoxy topcoat. The basecoat provides the required flexibility and crack bridging while the topcoat is highly durable and resistant to abrasion and impact. This system also has a fast application and cure time.
It consists of a two-component polyurethane-based adhesive primer, a two-component fast-curing polyurethane basecoat, and a two-component fast-curing epoxy topcoat with limited movement capability and superior abrasion resistance.
Conclusion
Figures 1 and 2 provide a quick reference for the different waterproofing systems and their susceptibility to common problems, typical application times, relative installation costs, and anticipated service life. This should serve as a quick reference for designers and specifiers when determining an appropriate waterproofing system for a project. The development of new technologies has focused on addressing specific issues, but at this time, these technologies are limited to a very niche market as a result of limited suppliers and installers as well as a price point that is significantly higher than competitive systems.
Parking garages are designed to serve a wide variety of users and are either required for residents or designed to generate revenue for owners. There are many waterproofing systems available on the market, but it is important to know the suitability of each system and its limitations. Also note, all parking structure waterproofing systems must be designed by qualified engineers and installed by qualified applicators.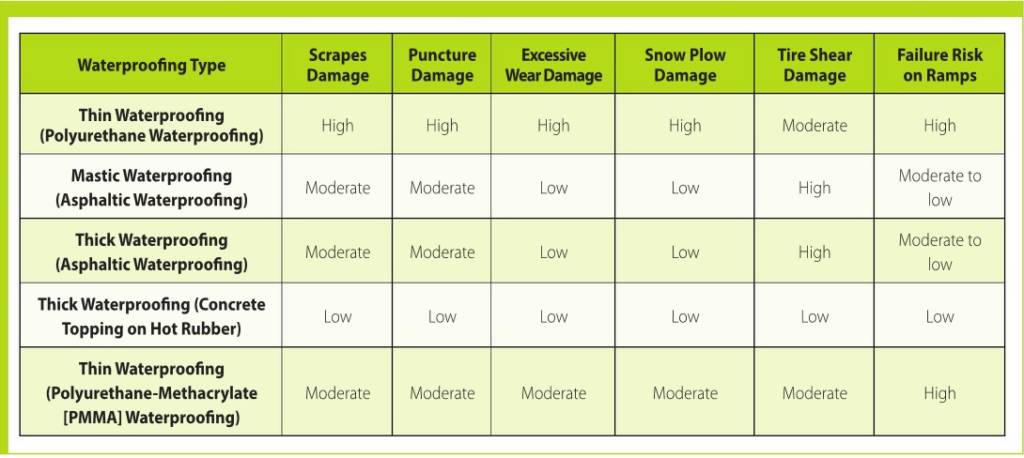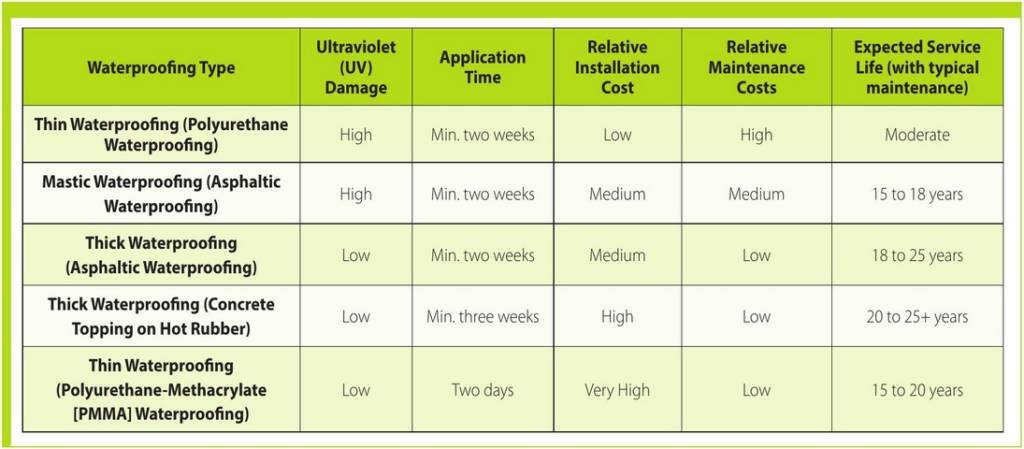 An associate at RJC Engineers, James Cooper, P.Eng., LEED AP O+M, is responsible for managing projects from start to finish, including assessments, design, tendering, construction contract administration, and project close-out. Cooper has held multiple positions including project engineer at RJC Engineers since he joined the company in 2005 after graduating from the University of Toronto. He has more than 12 years of experience in the field of structural restoration and waterproofing, and has been involved in rehabilitation/retrofit projects throughout his career. A licensed professional engineer, Cooper is a member of the Professional Engineering Association of Ontario, and a Leadership in Energy and Environment Design (LEED) accredited professional with the specialty designation of Operation and Maintenance of existing buildings. He can be reached at jcooper@rjc.ca.

Control the content you see on ConstructionCanada.net!
Learn More.