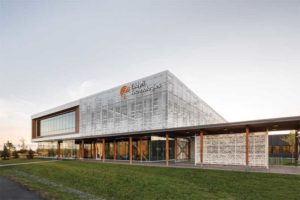 By Scott Moffatt
Today's skyscrapers, stadiums, office buildings, and entertainment complexes look better and last longer than ever. That is due, in large part, to advances made in the esthetics and performance of liquid and powder coatings for aluminum and other metal building components.
Even with these advances, the most sophisticated metal coatings have the potential to corrode, lose their colour or gloss, or crack and peel if they are not manufactured or installed properly, or if they are exposed to environmental hazards onsite. Correcting these problems can cost millions of dollars.
For architects, specifiers, consultants, and building owners, the only protection from these potential liabilities is a strong, enforceable warranty backed by a reputable coatings manufacturer and delivered through a trusted, proven supply chain.
Warranties and quality standards
Many companies issue coatings warranties, including coatings and finished component manufacturers, applicators, and contractors. Coverage typically extends from warranty issuers to their direct customers, but terms can vary by technology (liquid versus powder, for instance), product, country, and even from one project to another. For architects, specifiers, and building owners, this can present major challenges when comparing bids and warranty terms from competing suppliers.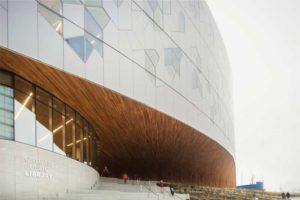 In North America, the most important warranty terms and conditions—those related to wear—are outlined in voluntary standards published by the American Architectural Manufacturers Association (AAMA), now part of the Fenestration and Glazing Industry Alliance (FGIA).
AAMA 2605, Voluntary Specification, Performance Requirements and Test Procedures for Superior Performing Organic Coatings on Aluminum Extrusions and Panels, is the most rigorous and widely cited benchmark. However, AAMA also publishes less rigorous criteria for high-performance (AAMA 2604, Voluntary Specification, Performance Requirements and Test Procedures for High Performance Organic Coatings on Aluminum Extrusions and Panels) and basic pigmented (AAMA 2603, Voluntary Specification, Performance Requirements and Test Procedures for Pigmented Organic Coatings on Aluminum Extrusions and Panels [with Coil Coating Appendix]) coatings. In both Europe and Australia, Qualicoat is the most widely recognized standard. To learn more, visit www.qualicoat.net, aamanet.org, or www.fgiaonline.org.
Why warranties are important
Coating architectural components made of aluminum requires not just an excellent coating, but also expert application in the factory and installation on the jobsite. At any point, from the time the metal is pretreated and coated to the moment it is actually installed on a building, there are numerous variables that must be carefully prepared for and controlled to ensure the coating will achieve its expected service life.
Appropriately written coatings warranties are designed to protect building owners, architects, and specifiers from failures, which can cost millions of dollars. Since many companies are involved in the coatings supply chain, conflicts or confusion can arise about which supplier is backing a warranty, what constitutes a coatings failure, and who ultimately is responsible, especially if the failure occurs five, seven, or 10 years after a building is complete. For this reason, understanding and selecting the right supplier, applicator, and warranty is critical to a project's success.
Warranty checklist: Pretreatment
Pretreatment refers to the preparation of the metal substrate before the coating is applied. It is an important consideration when specifying a coating system because it can determine the degree to which it is warranted.
Thus far, coating systems incorporating traditional, time-proven pretreatments, such as chrome conversion coatings, have demonstrated that the most effective protection of architectural aluminum. This is true in coastal environments, where long-term exposure to salt air and humidity can lead to coatings failure.
Corrosion resistance
The two main components to corrosion resistance are humidity and salt spray resistance. For this reason, metal coatings manufacturers do not offer warranty coverage in severe marine or coastal environments.