By Rick Quirouette, B.Arch., Roger Mitchell, SAA (Ret.), FRAIC, and Robert J. England, P.Eng.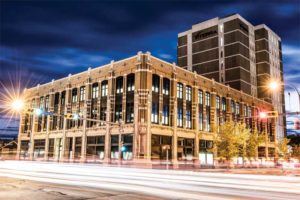 Historic buildings in Canada are often 100 years old or more. Some of these structures are designated as heritage buildings and continue to provide occupancy, but the indoor conditions are inadequate for current residency and production facilities. The indoor conditions are hot and humid in summer, and cold and dry in winter. These buildings also exhibit high energy costs due to little or no insulation and uncontrolled air leakage through porous exterior walls and roofs. The restoration of claddings and exterior walls of heritage buildings is a growing activity in many Canadian towns and cities. However, to be acceptable for modern-day occupancies, these restored structures need to support an adequate indoor temperature, relative humidity (RH), air quality, and controlled building pressure. Additionally, a heritage building envelope requires some consideration with respect to future energy conservation features.
Modern indoor comfort requires relatively uniform temperature distribution and air movement in the room. It also needs supplementary indoor humidity in winter and dehumidification in summer. From an energy point of view, additional insulation is also required for exterior walls and roofs. Heritage buildings may need new windows and doors and the addition or upgrade of HVAC systems. When the indoor conditions are renovated, it presents a new set of challenges for the envelope such as:
air exfiltration due to building pressurization;
condensation within wall cavities from humidity in the exfiltration air; and
greater thermal movements of the cladding surfaces due to increased insulation.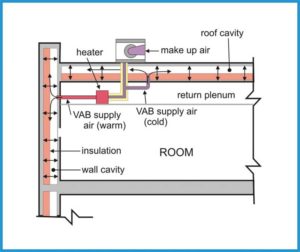 Excess condensation causes various damages including:
staining of façades and corrosion tracks;
corrosion of anchors;
spalling of mortar joints and masonry; and
efflorescence.
Increased insulation is not easily accommodated as most heritage buildings do not include expansion or contraction joints in their cladding surfaces to accommodate greater surface temperature excursions.
Architectural restoration strategies do not consider the new loads imposed on the building envelope when the heritage project includes a major indoor fit-up. The principal challenge to mitigate potential condensation damage to the building cladding is to reduce and limit moist air exfiltration. If it is considered, in many cases, the architectural efforts have failed to perform adequately. Air sealing against air exfiltration through a building envelope is a complex problem poorly understood by construction professionals. Well-developed solutions to air leakage control are rare and strategies to mitigate air pressure resistance in the construction of exterior walls and roofs are almost non-existent.

The application of a virtual air barrier and dynamic buffer zone (VAB/DBZ) concept mitigates, if not eliminates, all of the above concerns including pressure-induced air leakage and moisture loading on heritage exterior walls, as well as reduces rain and/or condensation damage to restored claddings. It can also alleviate the thermal and moisture expansion and contraction issues of heritage cladding and exterior walls.
The Viterra building restoration
The Viterra building was originally designed as a department store for the downtown core of Regina, Sask. It was built in 1913 for C. W. Sherwood Co. The lower building of the Viterra complex is a three-storey structure attached to a newer 11-storey office facility. It was designated as a heritage building by the City of Regina.
A major restoration of the exterior walls and cladding as well as a comprehensive indoor fit-up was completed on the low-rise portion of the Viterra building in 2018. The restoration project is also fitted with a state-of-the-art VAB/DBZ system for the protection of the cladding and exterior wall restoration and to better support control of the indoor environmental conditions.
The building is constructed with a cast-in-place concrete structural frame with cast-in-place concrete slabs. The exterior walls are masonry. The cladding is terra cotta stone with sculptured column covers and parapets. The original, wood-framed windows were replaced with modern, curtain wall-style aluminum glazing. Currently, the building is used as an office space with a small portion of the first floor dedicated to a grain laboratory.

Control the content you see on ConstructionCanada.net!
Learn More.