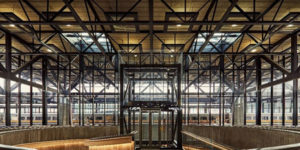 VIA Rail Canada's (VIA Rail) Ottawa station has earned the Leadership in Energy and Environmental Design (LEED) Gold v4.1 certification for Operations and Maintenance for Existing Buildings, the Canada Green Building Council's (CaGBC) second-highest level of accreditation.
The Ottawa station, a heritage building and VIA Rail's flagship station, underwent renovations from 2016 to 2019 to improve its environmental performance and accessibility. Its LEED certification journey began during this transformation project with the identification of efficiency measures and the decision by VIA Rail's team to register with CaGBC. The rigorous process, which officially started at the beginning of 2019 and ended in 2020, earned the corporation its first LEED certification.
"Obtaining the LEED Gold v4.1 certification is a milestone for VIA Rail and a great source of pride for our teams. It brings us one step closer to our green building goal and formalizes our commitment to creating more sustainable and accessible stations and maintenance centres," said Dominique Lemay, VIA Rail Canada chief operating officer "The certification process allowed us to identify several opportunities to improve the efficiency of the station's operations, which then led to the implementation of changes to our building management processes and practices. Ultimately, our goal is not only to enhance the travel experience, but also to go further together. And it is by modernizing our infrastructure and services, and by making them greener, that we will lead Canadians to a more sustainable future."
Rigorous performance measure
As part of its certification process, VIA Rail has shown superior performance in the main evaluation criteria, including energy water consumption, waste diversion, and human experience, earning 68 LEED points for the gold level.  VIA has also integrated green building principles through the upgrade of the station's east wing.