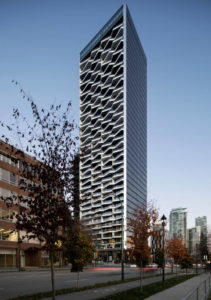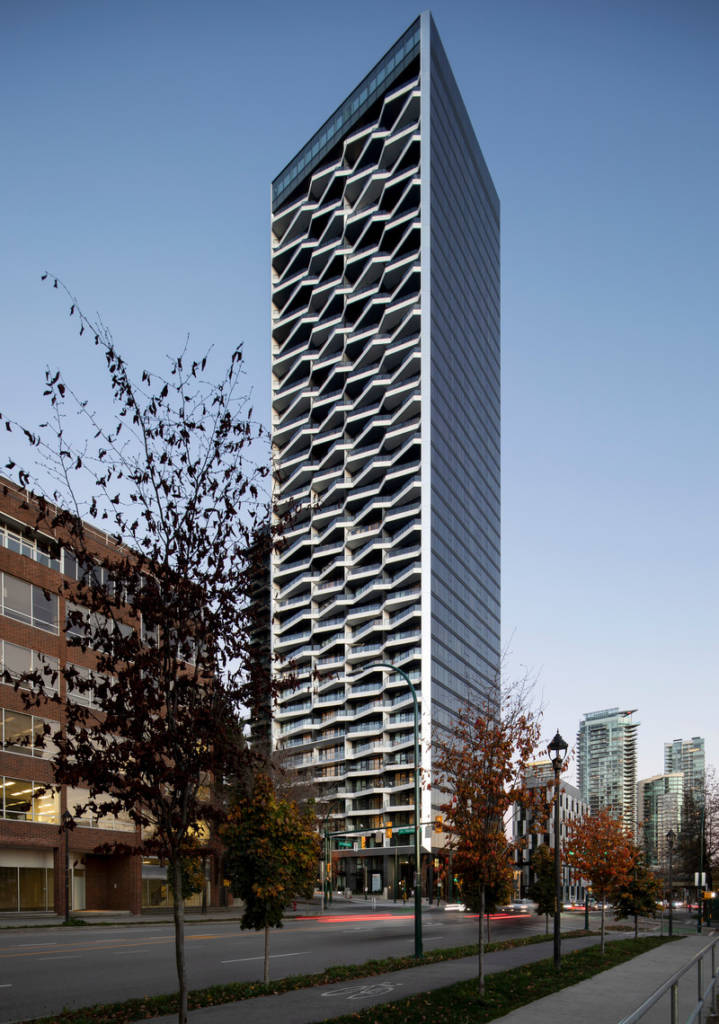 The Pacific, ACDF Architecture's new residential high-rise tower, was designed as a representation of the firm's effort to rethink skyscraper development.
As one of several new additions to the Vancouver skyline, the firm focused on developing shape and form on simple massing that would capture attention through the building's textures, assembly, and details. The goal was to create a structure which not only had character, but also blended into its surroundings.
The building's north and south facades are layered with glass and black granite, which contrast with its more picturesque east and west facades. The latter features triangular balconies arranged in a woven pattern.
At its base, The Pacific was grounded to the site's location, its history, and the vibe of the street—not just in terms of materials, but also in the way it would be viewed from ground level.
Vertical views are enriched by balcony textures, including three tones of grey on their undersides, inspired by cloud formations and creating a sense of movement within their patterns. The triangular balconies above also provide plays on reflection to the streets below.
The white, marble-like porcelain finish of the balconies reflects light downward. During transitions of light, two facades begin to glow, while the other two sides fade to darkness.
Located at the corner of Hornby and Pacific streets, in a cityscape framed by the Granville Street and Burrard Street bridges, The Pacific features 224 condominiums across 39 floors. The building was developed in collaboration with IBI Group, a Canadian architectural consulting firm.