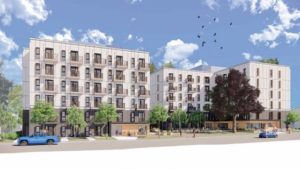 Ryder Architecture has received unanimous approval from the Vancouver city council for their Passive House affordable housing development in Vancouver for the non-profit organization Brightside Community Homes Foundation.
The development's design is in response to the foundation's ideals, namely the mandate to build and foster resilient communities for those who struggle to meet the demands of market housing. Predicated on the creation of affordable housing that focuses on livability, the design is warm and inviting, sensitive to its context, cost effective to construct and maintain, as well as being highly energy efficient.
The project involves redeveloping two existing affordable housing buildings and comprises 157 studio and one-bedroom suites in two, six-storey buildings. When completed, the development will provide much-needed additional secured, affordable nonmarket rental housing to Brightside's community of affordable homes, providing accessible, affordable housing for seniors and people with disabilities in Vancouver.
The project is being designed and constructed to the international Passive House standard, with substantially reduced energy requirements, better occupant comfort, and a lower operational carbon footprint. Future climate modelling, solar shading, and tempered cooling strategies are being employed to achieve optimal energy performance as well as provide high indoor air quality (IAQ) and thermal comfort for the at-risk population who will be living there.
"This project provides many community benefits, including improved interactions with the public realm, landscape and urban agriculture opportunities, and connections to the community," said Warren Schmidt, principal at Ryder Architecture. "Most importantly, this project proposes a substantial increase in the affordable rental housing stock in the community, a critically under supplied resource."
The project is expected to begin construction in early 2021.