Vancouver fire hall is the first to achieve zero carbon certification
by sadia_badhon | June 3, 2020 6:10 am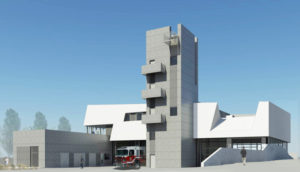 The Vancouver Fire Hall No. 17 is the first fire hall in Canada to earn the Zero Carbon Building (ZCB) design certification by the Canada Green Building Council (CaGBC[2]), and the first project to be certified in British Columbia.
Designed by HCMA[3], it is one of 16 projects to pilot CaGBC's new ZCB standard, which provides a process, performance targets, and tools to support low-carbon buildings in response to the climate crisis. When complete, it will offer a 99.7 per cent reduction in operational carbon emissions compared to the existing Fire Hall 17.
The project is also pursuing Leadership in Energy and Environmental Design (LEED) Gold certification, Passive House certification, and Net Zero Energy as defined by the Federation of Canadian Municipalities.
To achieve low-carbon and low-energy performance targets, design strategies include an optimized orientation to benefit from local climate conditions, an airtight envelope, efficient air and water heat recovery systems, and a low-carbon mechanical system that utilizes a geo-exchange field with ground source heat pumps.
"Vancouver Fire Hall 17 is a response to the urgency of the climate crisis. It shows that even large, complex facilities can lead the way in reducing our industry's carbon footprint, while still improving the public service they provide," said Darryl Condon, managing partner at HCMA. "It is testament to the City of Vancouver's forward-thinking vision, and an example of how effective we can be as an industry when we collaborate from the earliest stages of a project."
For resilience, the building is designed with fully electric systems with a backup generator. It has four drive-through apparatus bays, a full-size hose/training tower, a training yard, and accommodation for two full crews. Since it is designed as a post-disaster facility, it is fitted with City IT, radio, supervisory control and data acquisition (SCADA), and traffic control equipment.
The new low-carbon building will also serve as a post-disaster citywide emergency hub in the event of an internet technology (IT) network breakdown. It is designed that way, so any firefighter in the building can get to a fire truck in 60 seconds.
The project was a collaboration between HCMA (architects and sustainability consultants), the City of Vancouver, Integral Group (mechanical and electrical), Morrison Hershfield (energy modeling), and RJC Engineers (envelope and structural).
"This community facility is a leading example of the City of Vancouver's climate commitments, showing that we can make near-zero-emissions buildings the new normal, while enhancing occupant comfort, and reducing energy, and water consumption costs," said Danica Djurkovic, director of Facilities Planning and Development at the City of Vancouver.
"It is on track to receive Passive House certification and has pushed the envelope in multiple ways, including generating its own renewable energy with solar photovoltaic [PV] panels on the building's roof."
Endnotes:
[Image]: https://www.constructioncanada.net/wp-content/uploads/2020/06/Opener.jpg
CaGBC: https://www.cagbc.org/
HCMA: https://hcma.ca/
Source URL: https://www.constructioncanada.net/vancouver-fire-hall-is-the-first-to-achieve-zero-carbon-certification/
---