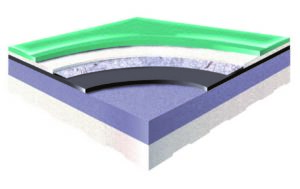 Indoor Sports Flooring
Karl Michels
Thursday, December 9, 2021
Zoom Presentation
Athletic flooring surface choices are as different as the uses required by them. An incorrect specification (or worse, an unclear specification!) can cause headaches for architects, designers, and owners long past the initial install. Take the mystery out of sports flooring choices and join us to learn what standards should be used in evaluating surfaces, the advantages and disadvantages of all surfaces, today's trends in sports flooring, and matching the needs of a user to the properties of a surface.
Learning Objectives:
Introduction and definition of sports flooring
Will explain different types of sports flooring materials along with their characteristics.
Will review governing standards on sports flooring and considerations
To be able to evaluate and choose the right sports flooring based on substrate, health and environmental conditions

Speaker

Karl Michels has 15+ years of flooring sales experience with Mohawk Industries (American Olean Ceramic Tile) and Tarkett/Fieldturf (Tarkett Indoor Sports). He is an accomplished presenter with an emphasis on story-telling to make the information relatable. He has a wealth of experience with identifying and solving technical issues affecting flooring performance (moisture issues, joints, hazardous materials, etc.).

Presentation Options:
Zoom

Zoom Agenda: 
12:30 – 1:30 pm            Guest Speaker Presentation
 

Cost:        
 
$10.00 plus GST for pre-registered CSC members / Association Executive Directors
$20.00 plus GST for non-members

Registration:
Register through Karelo:  ONLINE REGISTRATION
Pre-Registration ends at 2:00 pm on Wednesday before the meeting.
AIBC Members will receive 1 Core LU (Learning Unit) for attending this event.
Questions? Contact John Alley – 604-218-1308