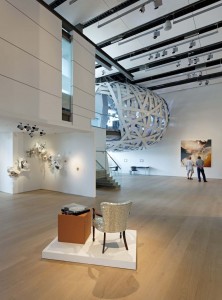 Calgary's Mayor's Urban Design Awards (MUDA) have been distributed to the city's designers and architects who have created recognizable public spaces.
The biennial awards program honours architecture, landscape architecture, and urban design in 10 categories.
This year's winners include:
Urban Architecture–Olive (Homes by Avi-Urban, Sturgess Architecture and Landscape design by George Harris) and The Bow (Foster+Partners with Zeidler Architects Partnership and Sturgess Architecture; Landscape design by Gustafson Guthrie Nichol);
Civic Design Projects–Energy Environment Experiential Learning (EEEL) centre (DIALOG & Perkins+Will; Landscape Design by O2 Planning + Design);
City Edge Development–Rocky Ridge Recreation Facility (GEC Architecture and Scatliff + Miller + Murray);
Great City, Great Design–Bridgeland Riverside Community Centre (Sturgess Architecture and Carlyle & Associates); and
Urban Fragments–East Village: Art in the Public Realm (Calgary Municipal Land Corporation and Artists Julian Opie, Ron Moppett, Daniel Kirk, and Ivan Ostapenko) and Esker Foundation Gallery (Kasian Architecture Interior Design & Planning).
The Esker Foundation Gallery is the largest privately funded, non-commercial gallery in the city. The project occupies 1427 m2 (15,360 sf) and includes gallery area, staff offices, and moveable display walls for a flexible space.
"This project is a point of pride on many levels," said Kasian principal Lois Wellwood. "The City of Calgary MUDA in the Urban Fragments category caps an unbelievable year for the Gallery and Kasian. We truly delivered on the mandate of making the space an instantly recognizable icon-in-the-city."
Click here for a full list of winners.