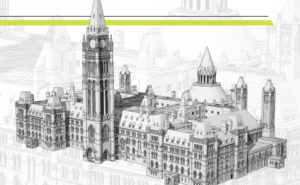 Public Services and Procurement Canada (PSPC) is restoring and modernizing the Centre Block, Ottawa, Ont., the country's main Parliament Building, so it meets the needs of a 21st-century Parliament and is more accessible to Canadians.
PSPC provided an update on the progress of this historic project, including the presentation of concept designs for the Centre Block and the new Parliament Welcome Centre.
The rehabilitation of the Centre Block is the largest and most complex heritage rehabilitation ever seen in Canada, PSPC said in a press release. To ensure this heritage building can serve Canadians for another century, it needs to be carefully taken apart and rebuilt to integrate modern standards, including a reinforced structure, seismic upgrading, and new building and digital systems.
The restored Centre Block will be more accessible and secure through the addition of a new Parliament Welcome Centre. The Centre Block will also be transformed from one of the government's highest-energy users and greenhouse gas (GHG)-emitting buildings into a carbon neutral facility.
Work is already underway to realize these goals, including demolition work on certain components and the abatement of hazardous materials inside the Centre Block, plus excavation work for the Parliament Welcome Centre.
While a project of this complexity carries a degree of risk and uncertainty due to unforeseen challenges, the Centre Block and the Parliament Welcome Centre are targeted for completion in 2030/2031. Parliament will conduct commissioning and testing before reopening the Centre Block. Costs are estimated to be between $4.5B and $5B for the Centre Block and Parliament Welcome Centre.