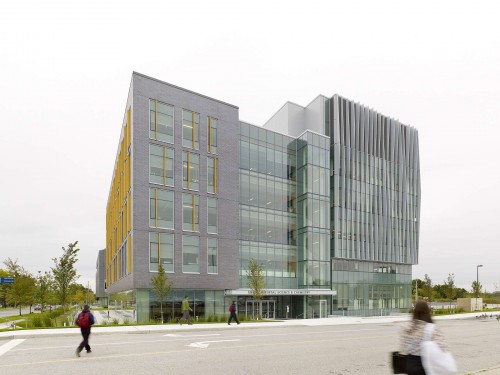 Diamond Schmitt Architects has designed the new Environmental Sciences and Chemistry Laboratory at the University of Toronto's Scarborough campus.
The 10,219-m² (110,000-sf) research and teaching facility includes a state-of-the-art facility integrating modern design with institutional objectives for sustainable targets. The lab is a flexible space ensuring adaptability to the ever-changing nature of research and teaching methods.
The five-storey building connects labs with academic offices around a sky-lit forum and crossroads designed to encourage collaboration and exchange. It is located on the edge of a wooded ravine, so all design is inspired by nature, which in return reflects the academic pursuits of the environmental science and chemistry disciplines.
"The building is designed to be a model of new thinking in laboratory design—open, transparent, flexible, and adaptable for lab usages as yet unimagined, not to mention providing a safe and secure work environment for students and researchers," said Donald Schmitt, one of the firm's principals.
The facility is on track to earn Leadership in Energy and Environmental Design (LEED) Gold certification. It has an earth-tube system that draws fresh air through six large tubes where it is pretreated in the earth to heat or cool before entering the mechanical system.