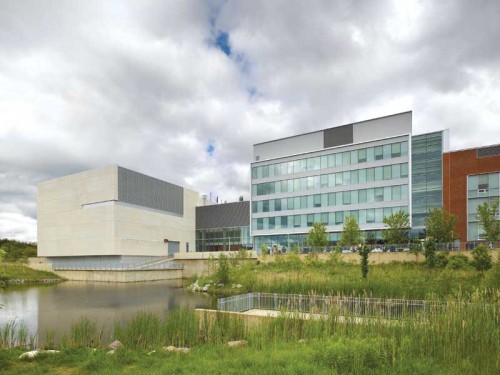 An aerodynamic and climatic wind tunnel has been built in the new Automotive Centre of Excellence (ACE) at the University of Ontario Institute of Technology (UOIT) in Oshawa. The tunnel allows for the testing of prototype vehicles and for assessing the durability of existing automotives.
Designed by Diamond and Schmitt Architects, the facility combines industrial research and educational programming. ACE's Climatic Wind Tunnel (CWT) component is a three-storey structure; two storeys are high-bay spaces that include long spans up to 17.5 m (57.4 ft) to accommodate most of the wind tunnel circuit. The structure's lateral stability is provided by a combination of diagonal steel bracing and cast-in-place concrete shear walls. The structure supports many individual pieces of equipment and forms part of the wind tunnel facility.
"There were many design challenges to make this building function as a multi-purpose facility, not least of which was integrating the monumental climatic wind tunnel into the structure and building systems at ACE," said project architect Michael Szabo.
Key features of the CWT, designed by Aiolos, include:
fan weighing 27,270 kg (60,000 lb), powered by a 3000-horsepower motor that can produce wind speeds from 2 to 240 km/h (1.2 to 140 mph);
circuit of acoustic treatment sufficient to provide low background noise level (71 dBA at 50 km/h [31 mph]) to permit detection of vehicle drive-away anomalies such as misfires, transmission hesitation, etc.;
long test chamber to enable climatic testing of trucks and buses;
turntable incorporating a chassis dynamometer with four independently powered rolls, to provide climatic testing at yaw angles and enable long wheelbase Class 8 truck testing; and
about 364,000 kg (800,000 lb) of steel used in the fabrication of the air circuit steel shell and floor assemblies.
As part of the UOIT campus, ACE functions both as a centre for proprietary research as well as an active part of university life.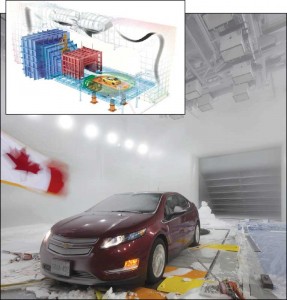 "Balancing the need for a secure and confidential environment and the aspiration for an open and transparent engagement of the university was fundamental to the success of the project," explained Donald Schmitt, a principal at Diamond and Schmitt.
The 16,632-m2 (179,000-sf) ACE houses the Collaborative Research Facility (CRF) and the Integrated Research and Testing Facility (IRTF). The former includes:
numerous testing facilities including the wind tunnel;
soak rooms where vehicles are exposed to extreme temperatures and other climatic variables;
a four-post shaker; and
mast test cells—a semi-anechoic room to test acoustical properties of components.
The IRTF is a five-storey post-graduate academic research centre that includes:
a large industrial lab with high bays;
engineering support space;
concept labs;
welding and grinding shops; and
two floors of offices, conference rooms, and common areas dedicated for research, education, and training.
The adjoining Ontario Power Generation (OPG) Engineering building is an earlier design by Diamond and Schmitt. It provides 3716 m2 (40,000 sf) of UOIT undergraduate learning space with state-of-the-art labs and academic offices.
The student area at ACE overlooks a stormwater management pond and the raised wind tunnel extends out over the water, allowing for a pedestrian pathway around the perimeter.

Control the content you see on ConstructionCanada.net!
Learn More.