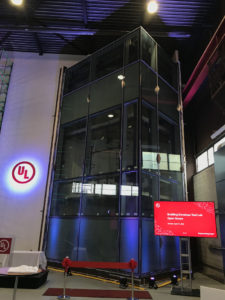 Underwriters Laboratories (UL) Canada opened the doors to its new building envelope test lab in Toronto, to members of the construction industry with a ribbon-cutting ceremony and open house. The new lab has been operational since November 2018.
This facility is one of three UL test labs in North America. UL delivers laboratory and field testing, and forensic and commissioning services for architects, building owners, manufacturers, and installers in the building construction markets.
"We are excited to offer our testing services to one of the most active construction markets in the world," said Joe Hosey, general manager for Canada at UL. "The expansion of our building envelope services in Toronto provides the construction industry throughout Ontario with access to an organization that is known worldwide for advancing building science."
The Toronto facility contains both fenestration and mockup labs to test window wall, curtain wall, and wall assemblies. The mockup lab is located indoors in a 669-m² (7200-sf) facility equipped with a 45-tonne (50-ton) overhead crane and can test to a maximum sample size of 12 m (40 ft) high. The mockup lab is among the largest indoor facilities in the country.
UL fosters safe living and working conditions through the application of science to solve safety, security, and sustainability challenges.
In addition to the Toronto lab, UL has building science test facilities in Montréal and Chicago.