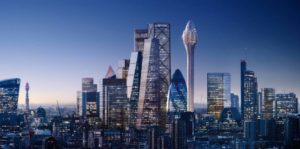 The Tulip tower by J. Safra Group and Foster + Partners has been given the go-ahead by the City of London, United Kingdom. When completed, this cultural attraction could become the tallest building in London and second tallest in Western Europe.
The 9305-m (1002-ft) tall visitor attraction is expected to build public engagement. A key feature will be the education facility within the top of the Tulip, which will use innovative tools to bring the city's history and dynamism to life.
The Tulip seeks to provide an unparalleled vantage point to view London from more than 300 m (984 ft). The viewing galleries will offer an engaging experience with sky bridges, internal glass slides, and gondola pod rides on the building's façade. Complementing the experience will be a sky bar and restaurants with 360-degree views of the city.
Contributing to London's sustainability objectives, the Tulip's soft bud-like form and minimal building footprint reflects its reduced resource use, with high-performance glass and optimized building systems lowering its energy consumption. Heating and cooling is provided by zero combustion technology, while integrated photovoltaic (PV) cells generate energy on site.
The planning permissions follows the recommendation of the city planning officer's report noting the significant public, socio-economic, and cultural benefits of the project.
As part of the planning application process, the Tulip project submitted an economic impact assessment, which estimated the tower would offer economic benefits of nearly £1 billion in total monetized value by 2045, and 600 additional permanent full-time jobs during 20 years of operations.