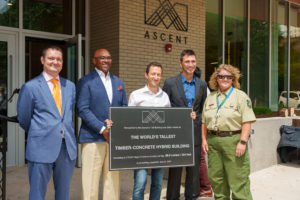 The Council on Tall Buildings and Urban Habitat (CTBUH) has certified the 86.6-m (284-ft), 25-storey Ascent building in Milwaukee, Wisconsin, as the tallest mass timber structure in the world in two categories—the tallest timber building overall, and the world's tallest timber-concrete hybrid building.
In 2019, CTBUH certified Mjøstårnet in Brumunddal, Norway, as the tallest timber building at 85.4 m (280 ft). The previous tallest concrete-timber hybrid building was the 84-m (276-ft) HoHo building completed in 2020 in Vienna, Austria.
Milwaukee architect Korb & Associates designed Ascent, with New York engineer Thornton Tomasetti providing structural design services for real estate developers New Land Enterprises and Wiechmann Enterprises. Swinerton Builders was the supplier for the structural timber used in the project.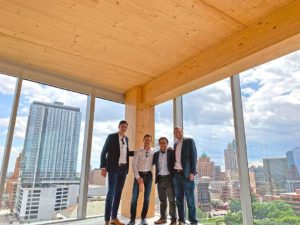 The multifamily housing has a concrete base, which serves as a parking garage, along with elevator and stair shafts, while the remaining structural elements make use of cross-laminated timber (CLT) and glulam. The design exposes the mass timber construction whenever possible, most visible on the inside in the apartment ceilings and columns.
This has been a success story of the trials in building with mass timber. While Ascent broke ground in August 2020, it took approximately two years of research, testing, planning and collaboration with external stakeholders to get it there. The process has established a model for tall timber helping pave the way for future projects.
It is estimated the use of mass timber for the structural system decreased construction time by approximately 25 per cent, compared to a conventionally constructed concrete building of the same scale. Ascent was built using a "digital twin" model, so every beam, column and panel could arrive on site ready to assemble, with holes predrilled to within 1.5-mm (0.06-in.)  accuracy.
The CEO of New Land Enterprises Tim Gokhman spoke at the event where the building was declared the tallest: "We didn't set out to break records. We just wanted to create the best experience within the built environment for our residents. Mass timber is faster, more precise, lighter, more sustainable, more beautiful, and supports our commitment to biophilic design."