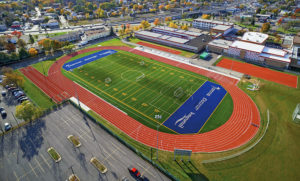 Winners have been announced for the American Sports Builders Association (ASBA) annual awards, with plaques presented to a pair of Canadian projects.
Facilities built by ASBA members may qualify for these awards, depending on how they score. Winners are those considered to display 'construction excellence,' based on a variety of factors such as layout and design, sitework, drainage, base construction, surface, amenities, and innovation.
Any project meeting or exceeding the standard cumulative score will be declared a winner. In each category, specific winners are recognized as exceptional, earning Bronze Awards, Silver Awards, or the title of Outstanding Facility of the Year. This year, not only did two Canadian facilities rank as winners, but one also went on to earn the highest honour in its division.
A running track by Carpell Surfaces, located at Gerard Filion Secondary School in Longueuil, Qué., has been named 2016's Outstanding Outdoor Track Facility of the Year. Despite delayed drying times caused by cold weather, this project was completed on time, and features an asphalt base with a polyurethane surface. Successful installation of this system hinged on a high degree of precision, to ensure the appropriate thickness of each of its four layers. The design of the track is intended to meet International Association of Athletics Federations (IAAF) Class 1 standards.
Another of Carpell Surfaces' projects, the York Lions Stadium in Toronto, was declared a winner in the same division.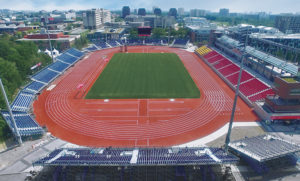 Other Outstanding Facilities of the Year include:
Army Navy Country Club by Tennis Courts, Inc. (Arlington, Va.) as Outstanding Outdoor Tennis Facility of the Year;
Gladwyne Residence by Pro-Sport Construction (Gladwyne, Pa.) as Outstanding Residential Tennis Facility of the Year;
Banta Bowl, Lawrence University by Rettler Corp. (Appleton, Wis.) as Outstanding Single-field Facility of the Year;
Shoreline Athletic Facility by Siegfried Engineering, Inc. (Mountain View, Calif.) as Outstanding Multi-field Facility of the Year; and
Virtue Field House at Middlebury College by Sasaki Associates Inc. (Middlebury, Vt.) as Outstanding Indoor Track Facility of the Year.
A full list of winners, which were announced last month at the association's technical meeting in Amelia Island, Fla., is available here.