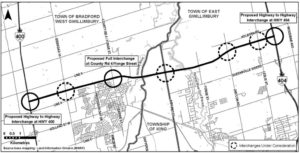 The 2022 annual report by the auditor general Ontario says the minister of transportation waived the opinions of engineering subject-matter experts in the decision to prioritize the construction of eight highways in the province.
Two of those highways are Highway 413 in Toronto and the Bradford Bypass in the Regional Municipality of York and the County of Simcoe. They were both considered key elements of Premier Doug Ford's re-election campaign in spring last year.
According to CTV News Toronto, the report pointed out the minister of transportation ordered the ministry to put off the construction of higher-priority highways until later, previously approved by the Treasury Board. The auditor general Bonnie Lysyk also found the ministry did not communicate the minister's decision to the government, which was opposed to the recommended plan of action by the ministry's subject-matter experts. At the time, the subject-matter experts advised four of those highways to not be built.
"Our audit concluded that the Ministry did not consistently plan and prioritize highway projects effectively, based on provincial infrastructure needs," Lysyk said in her annual report.
"There are people that work in ministries that spend a lot of time and are experts in what they do, and they make recommendations as best they do, and they hope that they're heard because theirs is based on engineering experience," she said at a press conference.
"Governments can make any decision governments want to make. I think we acknowledge and we recognize that, but what we're pointing out in the report is that there were recommendations for a different sequence in the builds of highways in Ontario and unfortunately, there was an override of those decisions."
Estimates suggest the Bradford Bypass to cost between $2 and $4 billion, while Highway 413 could cost more than $4 billion.
The ministry of transportation gave the following response in the report: "[It] has robust processes and systems in place that use sound asset management principles to plan, prioritize, maintain, repair, and renew provincial highways."