Tradition sparks innovation in U of T college expansion
by arslan_ahmed | September 13, 2023 4:38 pm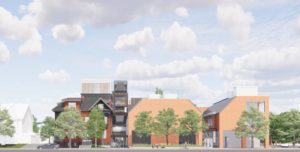 The University of Toronto's (U of T's) Innis College expansion project, nestled within a Diamond-and-Myers 1970s building and attached to a heritage-listed Victorian house, seeks to modernize while preserving the site's distinct character, fostering a sense of community, and upholding the tradition of academic engagement.
There were three ideas driving the design of the project led by Montgomery Sisam Architects:
Creating an intimate sense of place by making a courtyard building, which is also to be a part of the network of courtyards and paths in the St. George campus.
Developing a unique identity for Innis College by combining buildings from different times.
Enhancing the Innis experience by providing a creative environment that fosters a sense of community and promotes individual expression.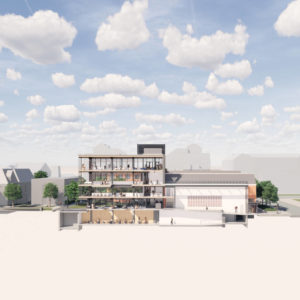 Innis College is home to cinema studies, urban studies, and writing and rhetoric programs. The addition will accommodate 2,000 students (a significant growth from the space for 800), house a series of intimate spaces, including offices, classrooms, an expanded Innis Cafe and food server, a new library centre, and a rooftop space.
Within the building, the design will feature a series of double-height spaces and light wells to bring ample natural light into the interiors. The transparent facades will give a view into the courtyard, which was designed to reinforce a sense of place within the campus, and an exposed mass timber structure will create a warm and inviting environment, while also supporting the sustainability goals.
The courtyard is an interpretation—in scale, proportion, and function—of the Town Hall, a large auditorium and screening room, and the gravitational centre of the existing college building. It will transform the college's underutilized green space into an inviting outdoor area to extend the social heart of the building outdoors.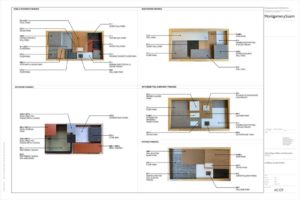 A spacious rooftop on the 4th floor will provide an gathering space, backed away from the bustling urban street and the interior courtyard.
The project aims to achieve low energy use, operating costs, carbon emissions, and a high degree of wellness features, including access to natural daylight, acoustic comfort, access to the outdoors, control of nuisance smells and noise, and encouragement in the use of stairs.
U of T has also recently embarked on a low-carbon action plan, targeting 32 kg/CO2e/m2 (70 lbs/CO2e/sf) for new construction. The addition is currently reporting at 11.9 kg/CO2e/m2 (26 lbs/CO2e/sf), under half the already ambitious target established by the university.
Endnotes:
[Image]: https://www.constructioncanada.net/wp-content/uploads/2023/09/230404_IC_South-Elevational.jpg
[Image]: https://www.constructioncanada.net/wp-content/uploads/2023/09/E_Section_Overall_North-South_2_EDIT.jpg
[Image]: https://www.constructioncanada.net/wp-content/uploads/2023/09/Innis-College-Architectural-Drawings-Materials-web.jpg
Source URL: https://www.constructioncanada.net/tradition-sparks-innovation-in-u-of-t-college-expansion/
---