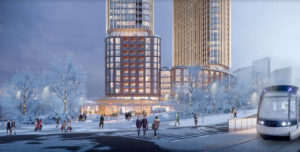 A proposed development at Leslie and Eglinton will replace the existing Lexus and Toyota dealerships to create a multi-tower residential community and public park, supporting the city's Leslie Street intensification plan to build higher-density mixed-uses on underutilized sites.
Rowntree Enterprises through Rowbry Holdings Ltd. is creating the 28,350-m2 (305,157-sf) mixed-use development at 1075 Leslie, and the architecture firm, BDP Quadrangle, is the designer. The proposal includes five towers ranging from 13 to 49 storeys, offering a total of 1846 new housing units in a range of sizes.
The development is one of a handful being proposed along the Leslie corridor supporting the city's intensification plan in response to unfulfilled housing demand, The plan fosters higher-density mixed uses on underutilized sites—particularly in locations well served by (existing or future) municipal infrastructure.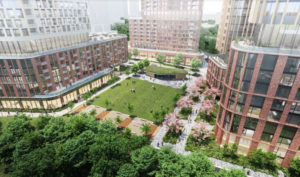 With a view to fostering community and collaboration as the area develops, the gateway site has the potential to be a catalyst for a larger mixed-use precinct featuring multiple new connection points for the public including the neighbouring Auberge and Carrington developments to the north, adjacent parks and conservation areas including the expansive Sunnybrook Park, and to the new Sunnybrook LRT Station on the Eglinton Crosstown Line, located just 70m () south of the site and expected to open in 2023.
Fifteen per cent of the developable site area will be dedicated to a parkland which includes a walkable, tree-lined loop surrounding the site with new entrance points to adjacent parks, and a new parkland in the center of the site which will be programmed for diverse uses and family types. Additionally, a new public road leading into the site will help to break it up into smaller blocks, making it feel more permeable, urban, and inclusive.