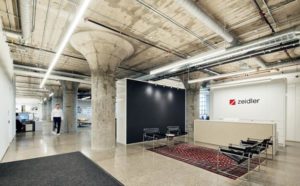 Auto BLDG, a 102-year-old, industrial-deco landmark, was recognized at this year's Canadian Brownfield (Brownie) awards.
It won the Rebuild Brownie for demonstrating excellence in enhancing public realm and exhibiting adaptive re-use of a heritage structure.
The building restoration team included developer CastlePoint Numa, primary consultant architectsAlliance, heritage architect ERA Architects, environmental engineering firm WSP Global, and lender Equitable Bank. The restoration took five years, from conception to completion.
In conferring the award on the building and its restoration team, the Canadian Brownfields Network (CBN) noted Auto BLDG "serves as a model for other architects and developers for preserving employment land and significant heritage assets."
Auto BLDG is shared among Toronto's Museum of Contemporary Art (MOCA), Junction59, Zeidler Partnership Architects, Pride Toronto, and the Toronto Biennial. The Akin Collective also maintains studio space for 20 working artists.