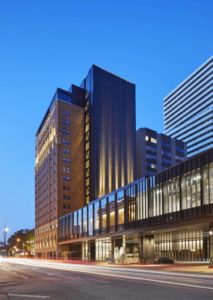 Kuwabara Payne McKenna Blumberg Architects (KPMB), along with Studio Munge and Oxford Properties, completed Toronto's Park Hyatt renovation with luxurious new additions.
The new renovation includes:
240 hotel rooms, including 38 suites, a presidential suite and two multi-level suites;
65 luxury rental residential units;
a redesigned lobby experience;
dining experience;
roof-top bar experience;
conference centre and ballroom; and
a new 743.2-m2 (8000-sf) Stillwater Spa with 13 treatment rooms.
The renovations include a reconstructed link between the north and south towers and a reconfigured elevator core with a custom-profiled metal panel cladding in a bronze finish.
Another addition to the Park Hyatt is Joni, a new restaurant that is part of a completely reconstructed centre podium. Carved out of what was formerly the low-ceiling lobby, the double-height, ellipse-shaped restaurant and bar is bookended by a feature black stair to the south and a soaring fireplace to the north.
The softened perimeter of the dining space features several vitrines, displaying works from the exquisite collection of the KPMB-designed Gardiner Museum. Comfort and privacy in the space is further enhanced by 2.44-m (8-ft) tall architectural wood louvers that shield passing vehicles lights in the new car court while maintaining connectivity to the vibrant neighbourhood.
The third floor of the new podium features a new, state-of-the-art ballroom and a skylit pre-function space with large windows providing scenic views of the city.
The 17thfloor Writer's Room – rooftop bar, immortalized by generations of iconic Canadian authors from Mordecai Richler to Margaret Atwood – has been redesigned and expanded, creating a sense of connection between guests and the city beyond.
"We're honoured to bring new life to the iconic Park Hyatt, Toronto, a destination beloved by local Torontonians and visitors alike throughout the decades, from celebrated writers to opera singers, politicians, and more," said Andrew Dyke, partner for KPMB Architects. "Our design preserves the heritage of the site while creating a forward-looking hotel experience that reflects Toronto's place as one of the most global cities in the world."