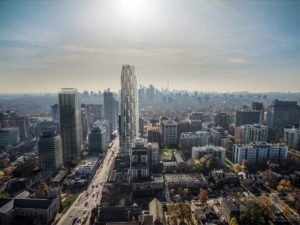 One Delisle, designed by Studio Gang, is a new residential tower located at an important node in Toronto's Yonge and St. Clair neighbourhood.
WZMH Architects served as the architect of record for the project, which provides density on a compact footprint, growing its neighborhood upward to meet urban challenges.
The façade of the building includes a series of eight-story elements, which nest together as they spiral up the building. Balconies are set within these elements, with terraces set atop them. Leaning outward for sun-shading and wind protection, they permit use of the balconies and terraces for the different seasons.
In addition to providing protected outdoor space, these elements lend the tower a more human scale. Their angled, alternating geometry for variously sized floor plates result in unique conditions within the units.
The tower is rectilinear at its base to fit within the city grid and address its corner condition at Yonge Street and Delisle Avenue, transforming into a multifaceted cylindrical shape as it rises to expand views, capture more sunlight, and minimize shadows on the street.
The building's setbacks allow for widened, landscaped sidewalks for improved urban connectivity, while also linking the important node at Yonge Street and St. Clair Avenue with the newly developed Delisle Park.