Toronto's Guild Inn getting green makeover
March 18, 2016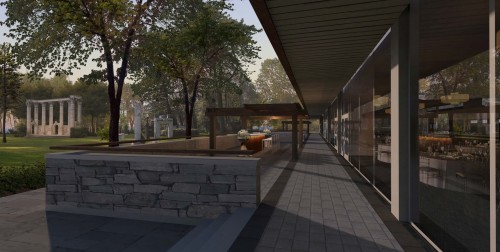 Following three years of negotiations, Toronto's iconic Guild Inn Estate is currently under construction by Dynamic Hospitality and Entertainment Group. Situated on the Scarborough Bluffs overlooking Lake Ontario, the project will feature a 3700-m2 (40,000-sf) estate on 88 landscaped acres (i.e. approximately 36 ha). Additionally, the renovations and restorations involve a projected budget of $20 million and create more than 300 construction jobs.
The project team includes Dynamic Hospitality[1]'s co-managing directors Sam D'Uva and Piero Suppa, along with Giancarlo Garofalo Architect Inc. and Queen's Quay Architects International, as well as architect and heritage consultant Philip Goldsmith. Its scope includes a combination of the restored historical building with state-of-the-art additions, featuring historical and priceless works of art throughout the grounds and facility. Features include a roof with a drainage system using a number of scuppers and rain chains designed to help water the lower roof plantings and to add to the overall park-like ambiance. Ultimately, the water will make its way down a second set of scuppers and rain chains that feed into French drains designed to replenish the water table that feeds the park woodlands and wetlands.
Stucco, glass, cedar, and natural limestone were the materials chosen to complement the existing finishes on the historic Bickford residence[2], and to provide a contemporary but natural backdrop to the park's existing greenery. Glass, softly green-tinted to reflect the landscape, is used to make simple and understated connections to the heritage house. Wherever natural wood materials are introduced, they will be stained or left to weather, further complementing the natural setting.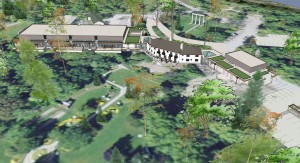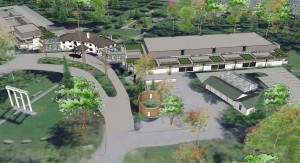 The overall scale of the new additions is designed to balance precisely with the height of the adjacent heritage building. To encourage movement throughout the whole complex, the additions are located on both sides to frame the house.
Other features include:
restoration of the Bickford House with the existing fireplace, stairwell, wooden beams, and panelling to house a new restaurant—the Bickford Bistro;
an outdoor terrace as part of every function room;
banquet space to feature a floor-to-ceiling glass wall overlooking parklands and historic monuments; and
a vaulted gazebo on building's east side.
The multi-purpose event space will offer flexible options with the capacity to have one large room or up to four separate rooms for guests, including intimate dinners for 10 and galas of up to 1000.
While the property is owned by the City of Toronto, Dynamic now holds a 40-year lease on the Guild Inn Estate. The Canadian company has constructed and renovated over 20 sites.
Endnotes:
Dynamic Hospitality: http://www.dynamichospitality.com
Bickford residence: http://heritagetoronto.org/the-guild-inn/
Source URL: https://www.constructioncanada.net/torontos-guild-inn-getting-green-makeover/
---