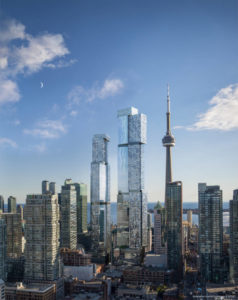 Toronto's newest mixed-use, two-tower development, Forma, will be designed by world-renowned architect Frank Gehry.
The name 'Forma,' comes from the Latin and Italian meaning for form, shape, and appearance which was inspired for the towers' dancing movement.
Forma's iridescent façade and twisting shape will reflect the colours of the sun and the form of the surrounding buildings to change Toronto's skyline.
The development, will be the first Gehry-designed new development in Canada and marks Frank Gehry's homecoming to Toronto. What's more, the development will feature the tallest Gehry-designed building in the world.
Gehry's work has been considered among the most influential in contemporary architecture. Throughout his illustrious career he has been recognized with numerous awards including the Pritzker Prize, the world's most prestigious architecture award. A few of Gehry's most notable projects include the Guggenheim Museum in Bilbao, the Walt Disney Concert Hall in Los Angeles and Fondation Louis Vuitton in Paris.
The tower, located at Downtown Toronto's 266-284 King Street West, will feature two residential towers, one will be 73 storeys and the other will be 84 storeys with a total of 2034 condominiums, commercial and retail spaces and a new space for OCAD University.
Developers Great Gulf Group, Dream and Dream Impact Trust, and Westdale Properties have also taken part in the development of this project.