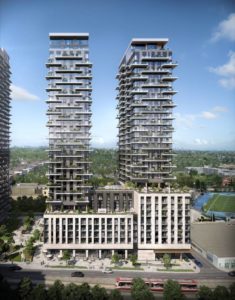 Construction group Canderel has debuted "Forêt," a three-tower community built to revitalize and connect Toronto's Forest Hill area.
With architecture by BDP Quadrangle, Forêt will revive the corner of Bathurst and St. Clair, a junction characterized by vastly different built forms from east to west. The first tower is defined by its tall and slender proportions. The second and third towers boast a light-coloured podium facade accented by bronze panels, providing a backdrop for a mix of amenity spaces.
II BY IV DESIGN led the interior design of all three residential buildings, which feature natural wood, stone, and metal materiality complemented by detailing.
Landscape architecture firm Site/C spearheaded the design for the privately owned public space (POPS), which will act as a corridor to a new city park and become a destination for both residents and the public.
Forêt is a highly connected, transit-oriented development just a few steps from the St. Clair West subway station.
"We're thrilled to be launching the largest mixed-use community in an area we have been working in for years, and that we know well," says Ben Rogowski, Chief Operating Officer (COO), Canderel. "Forest Hill historically has been known as a neighbourhood at the forefront of high design with some of the most sought-after real estate in the country. In keeping with that sentiment, we're bringing a vision that will celebrate the history of the area while ushering in a new era of sophisticated urban living."