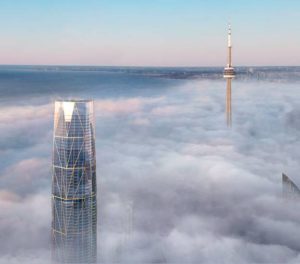 Developer Pinnacle International has applied to the city to increase the heights of the two new towers being built in its Pinnacle One Yonge complex by 10 and 12 storeys, appearing to rival the residential building The One by Mizrahi Developments under construction close by.
If the application is approved, this would make one of the Pinnacle One's towers, called the SkyTower, the tallest building in Toronto, and Canada, rising to 105 storeys, or 344 m (1129 ft). This would also mean that the city would let go of the previous height limits, permitting residential construction to rise to 100 storeys. To take scope of the scale, the SkyTower's approved height increase would level it with CN Tower's observation deck.
The One by Mizrahi Developments had applied for an application to increase its height to 94 storeys, or 338 m (1109 ft), in 2020, but so far it hasn't received word on the application.
Even if the applications for both the projects do not get approval, each would still cross the 298-m (978-ft) tall First Canadian Place and become the tallest buildings in Canada.