Attendees at CSC's Building Expo were treated to insights from Google Canada, as well as technical updates on construction law, climate change, and building science.
Kazim Kanai, director of CSC's Toronto Chapter, welcomed participants to the 40th edition of the CSC Building Expo, held Feb. 28. He said although the event has grown considerably, it remains simple and direct, with a focus on presenting the technical merits of products to architects, engineers, specification writers, designers, and contractors. Three of the event's "founders" were present to mark the 40th anniversary. About 140 exhibitors were represented at the event.
During the technical sessions, Catherine Willson, a specialist in construction law with Goldman Sloan Nash & Haber, outlined recent changes in Ontario's construction regulations.
The Construction Lien Amendment Act, 2017 was passed in December 2017, but the changes will be rolled out during 2018 and 2019, said Willson. Overall, she believes the overhaul of Ontario's construction regulatory framework is good for the industry. "In this package is prompt payment legislation, and that is super good news," she told Building Expo participants.
According to Willson, contracts in place today will continue to be guided by the previous Construction Lien Act. Contracts may fall under the new Act if the contract is signed after parts of the new Act are proclaimed (not the December 2017 date when the legislation was passed). In effect, for the next four years, Willson expects some contracts will fall under the old regime, and some will be governed by the new rules.
The new prompt payment regulations will prescribe automatic deadlines for payment to contractors, triggered by the submission of a proper invoice. Owners are required to pay within 28 calendar days after receiving the invoice. A contractor who receives full payment then has seven calendar days to pay subcontractors listed on the invoice.
The changes will also modernize the lien and holdback process, and set out a new adjudication process to resolve payment disputes.
Chris Adamkowski of Google Canada spoke of artificial intelligence (AI) and sales techniques in his keynote presentation. Adamkowski leads Google's industry group in Canada, and previously worked for Owens Corning, so he has some knowledge of the architecture, engineering, and construction sectors. He said Google's billions of active monthly users allow the company to collect large amounts of data. Insights from this data are used to create custom content for Google customers. However, humans cannot make sense of this much data, so AI and machine learning come into play.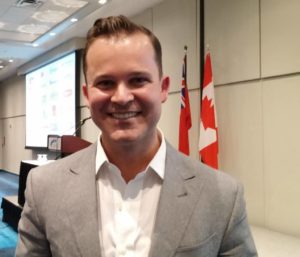 As an example, Adamkowski related how Google can use amplification of marketing to assist tourism organizations. Amplification gets the right message to the right person at the right time, he explained. So if someone watches a YouTube video about a particular destination, Google can work with its clients to then provide a targeted advertisement about the destination, and perhaps even pass on the sales lead to a downstream partner.
No surprisingly, Adamkowski said that AI is the future of sales, and of business in general. He reminded the audience they are probably already using AI in their daily life (Google Translate for example), and noted AI is a tool; it should not replace the human element of taking action based on data.
"AI doesn't cost jobs, in my experience," Adamkowski said. He believes humans will continue to do tasks requiring a human touch, and as a result humans will be more efficient. "I'm seeing this at the ground level, and it's pretty exciting," he concluded.