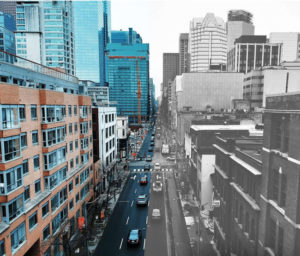 Efficiency Capital's comprehensive efficiency retrofit project at multiple WoodGreen Community Housing buildings is the first project in Canada to achieve the Investor Ready Energy Efficiency (IREE) certification, awarded by Green Business Certification, Inc. (GBCI Canada).
Efficiency Capital funds, develops, and manages efficiency retrofit projects, offering performance-based investment solutions to improve buildings' energy efficiency. Multi-residential, social housing, commercial, industrial, and institutional building owners can go to Efficiency Capital for sustainable upgrades.
Efficiency Capital worked with WoodGreen—a social housing provider, lead engineer Finn Projects, and contractor Baldwin & McCaul, to address a backlog of deferred maintenance and asset renewals. Their efforts resulted in improvements to occupant safety and comfort while ensuring Woodgreen's financial health.
"GBCI Canada and Canada Green Building Council congratulate Efficiency Capital on achieving Canada's first Investor Ready Energy Efficiency (IREE) certification. Through a certification like IREE, projects can more easily unlock the financing needed to accelerate the implementation of high-quality retrofits," said Thomas Mueller, president of GBCI Canada and CaGBC. "This project shows that energy-efficient retrofits in residential buildings, including non-profit housing, can play a key role in helping Canada achieve its climate mitigation goals."
IREE certification is based on the Investor Confidence Project (ICP) framework, which gives funders the confidence that retrofit projects have undergone a standardized method of analysis that is certified by an independent third-party. Developers like Efficiency Capital support building owners by developing, investing in, and managing building infrastructure renewals to maximize energy and water savings over time. Through completing detailed assessments and thorough stakeholder consultations, Efficiency Capital supports the development of holistic efficiency measure upgrade projects that incorporate other important consideration, such as improved occupant comfort.
Providing investors with additional confidence by completing independent certification ensures that developed retrofit projects are well positioned to achieve their expected savings, allowing building owners and operators to focus on their core operational needs.
WoodGreen is one of the largest non-municipal providers of affordable housing in Toronto with 12 housing sites, many of which required retrofits to improve efficiency.
To develop the business case to retrofit WoodGreen's building portfolio, Efficiency Capital combined detailed technical energy analysis with occupant health and comfort considerations, as well as asset management and reserve fund options. Efficiency Capital's investment and funding strategy helped WoodGreen leverage $1.3 million in reserve funds into a $3.4 million retrofit project projected to achieve over $5.7 million in utility savings over the useful life of the equipment, which will be used to finance the project over that time.