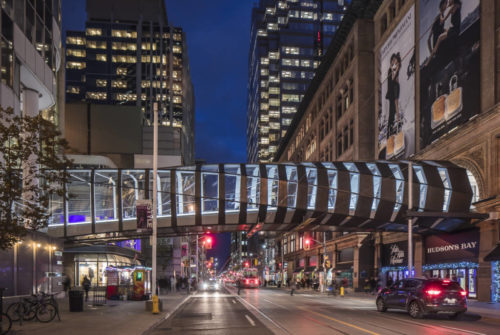 The Toronto Construction Association (TCA) awarded Cadillac Fairview's (CF's) Toronto Eaton Centre Bridge project with its Best of the Best Project Achievement Award (medium-sized).
"TCA's project achievement awards pay tribute annually to member companies who raise the bar in terms of professional excellence," says John Mollenhauer, CEO of TCA. "What sets these projects apart is unique teamwork, dedication, innovation, professionalism, and leadership that together, culminate in an extraordinary project achievement."
Managed by PCL Constructors, the installation replaced an existing pedestrian bridge located in the city's downtown core. Elevated above Queen Street, the bridge connects the Eaton Centre with Hudson Bay and Saks Fifth Avenue's flagship locations. The project features glass and etched bronze cladding panels, providing distinct interior and exterior vantage points for both users looking outward or pedestrians looking above from street level.
The project's original design concept involved demolishing the existing structure in sections and stick-building the new bridge in its final position. However, this strategy proved detrimental to the busy street's business, transit, and traffic, prompting a review of alternate building strategies. Ultimately, the bridge was constructed and pre-assembled adjacent to the shopping centre on James Street before being lifted into place.
"As construction manager, PCL played a key role in delivering this one-of-a-kind, world-class project in partnership with Cadillac Fairview, and we congratulate and thank the entire team for this achievement," says David Stewart, CF's director of project management and development. "PCL exemplified all of the qualities that the award calls for: innovation in means and methods; overcoming challenges related to budget, schedule and quality control; unique safety and environmental protocols; and with professionalism exhibited by all members of the project team."
To get a behind-the-scenes look at the development and construction of the project, check out the short documentary below.