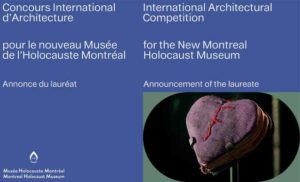 The Montreal Holocaust Museum has selected the design concept of KPMB Architects + Daoust Lestage Lizotte Stecker as the winner of a competition to develop its new museum.
As per the objectives and the evaluation criteria of the competition, this design won because of its integration into the urban context, the clarity of organization of spaces and the integration of gardens into the museum experience. The jury also noted that this team had a strong understanding of the Holocaust Museum's mission and had approached the subject with great sensitivity.
Over the course of Phase 1 of the competition, the Museum received 32 proposals from 9 countries, which were submitted anonymously to the jury. The jury then selected four finalists, who developed their projects in an interdisciplinary mode in Phase 2 of the competition. The jury met in the first week of July 2022 to deliberate upon and select the winner.
The winning project will be unveiled at a private event to be held at the Montreal Holocaust Museum on September 8. The following day, all the projects received in both stages of the competition will be published, as well as the jury's reports. The new Museum is scheduled to open in September 2025.