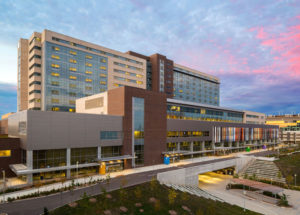 Humber River Hospital shot for Silver, but instead earned Gold. The Toronto acute care hospital exceeded its high sustainability goals and was certified to the higher level under the Leadership in Energy and Environmental Design (LEED) program. With an impressive safety record (no lost-time injuries in 5 million hours worked), the project was completed on time and on budget.
"Surpassing the project's intended LEED Silver classification to achieve LEED Gold is a testament to the entire collaborative team's relentless pursuit of achieving unprecedented energy efficiency targets to reduce Humber River Hospital's carbon footprint and create a facility that balances energy efficiency and innovative technology, enabling the hospital to focus on its core business of providing exemplary patient care," said Bruce Macpherson, project director with PCL Constructors Canada, the project's design-builder and construction manager.
This project team included experts in a variety of fields. Consulting was provided by MMM Group Limited (sustainability), Smith + Andersen (mechanical/electrical), and WSP Canada/Halsall (structural), with Modern Niagara Toronto and Plan Electric as the mechanical and electrical contractors, respectively. The project's civil engineer was A.M. Candaras Associates, while HDR Architecture Associates served as its architect and Quinn Design Associates filled the role of landscape architect.
Initially targeting 15 points under LEED Canada for New Construction and Major Renovations (NC) 2009 Credit Energy and Atmosphere (EA) 1: Optimize Energy Performance, the project broke new ground for Canadian acute care hospitals by achieving 17. This exceeds the standards set under American Society of Heating, Refrigerating, and Air-conditioning Engineers (ASHRAE) 90.1-2007, Energy Standard for Buildings Except Low-rise Residential Buildings, by 40.1 per cent.
The project also surpassed targets for energy use—its predicted energy-use intensity (EUI) is 348 ekWh/m2, a number 46.7 per cent lower than that achieved by most Canadian hospitals. In part, this is accomplished thanks to its HVAC system, which provides 100 per cent fresh air—outperforming Energy Star Portfolio Manager Canada's hospital target by 47 per cent. It incorporates:
heat-recovery chillers;
condensing boilers;
variable-speed fans and pumps;
efficient duct design; and
exhaust-air heat recovery.
The building itself is also very well-insulated, and its thermal control is further supported by window design, which implements dynamic glass that is adaptable according to weather and patient preference. Further, the facility reduces other kinds of energy and waste—for instance, a rainwater-capture system allows it to reduce water use by 33 per cent. Recycled content comprises 20 per cent of the materials used in its construction, and 96 per cent of the waste that was generated was not sent to landfill.
"I would like to congratulate Humber River Hospital and the project team on showing true leadership in the healthcare field by achieving LEED NC 2009 Gold certification," said Thomas Mueller, president and CEO of the Canada Green Building Council (CaGBC). "As one of the most energy-efficient acute care hospitals in North America, Humber River Hospital is a strong example of how the shift to a low-carbon economy is possible for all building and project types. By committing to green building through LEED, the patients, staff, and visitors of this hospital also benefit from a healthier indoor environment, which will support patient care and recovery for years to come."
The facility also makes use of modern technological innovations. It is the first hospital in the country to employ automated guided vehicles (AGVs), which transport carts to various locations throughout the hospital, delivering food, linens, medication, and other supplies, and can also perform tasks such as calling elevators or opening doors. The AGVs are also equipped to 'schedule' delivery based on priority, time, and location. Human communication is also facilitated through an information, communications, and automation technology (ICAT) infrastructure allowing digital sharing among occupants. (To learn more, see the Construction Canada cover story by clicking here.)
These technologies also helped streamline the construction schedule, allowing it to be completed in 43.5 months. Modular construction of 360 patient washrooms and telecommunications rooms also facilitated this. For more on this aspect of the project, see the video below.