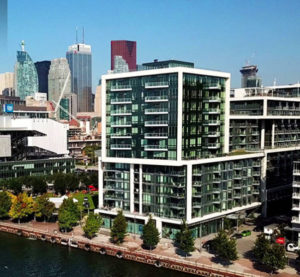 Aqualina at Bayside, the first phase of the Bayside community on the Toronto waterfront, is the city's first high-rise residential building to achieve Leadership in Energy and Environmental Design (LEED) Platinum certification under the LEED NC DB+C 2009 rating system.
Aqualina is the first of four condominium residences planned for the new 5-ha (13-acre) Bayside neighbourhood, which seeks to transform the Toronto waterfront, bringing a mix of residential, retail, and public spaces to the water's edge.
Aqualina at Bayside was designed by Miami-based architecture firm Arquitectonica. Located literally on the water's edge, Aqualina offers sweeping views of the Toronto skyline, Lake Ontario, and the Toronto Islands.
The condo is also home to the new Net Zero Energy Dwelling (NetZED) suite, which is a recipient of the Canada Green Building Council (CaGBC) 'Inspiring Home' award. The award recognizes industry leaders who demonstrate excellence in green building practices and a dedication to innovation in sustainable design. Designed to push the boundaries of sustainable design and reduce energy usage in a condominium home by harnessing the energy from solar panels on the roof for electricity, the NetZED suite went beyond this initial concept, incorporating sustainable design into all aspect of the home, from the choice of appliances to lighting and suite finishes.