Toronto developers unveil their new high-rise project, 252 Church Street
by brittney_cutler_2 | December 21, 2021 3:13 pm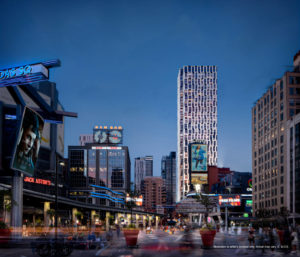 The southwest corner of Church and Dundas will welcome a new high-rise project at 252 Church Street in 2022. This makes it one of the last intersections to be unlocked on the Church Street corridor.
Church Street derived its name from the collection of churches that historically lined the street. It has long been characterized by significant buildings clad in brick and stone, such as the three-storey tall former Sterling Bank of Canada building that anchors the northeast corner of the site at the intersection of Church and Dundas streets. Designed by the award-winning team at IBI Architects in co-ordination with GBCA Heritage Architects, and headed by CentreCourt, this new condominium will pay homage to the storied history of the area.
Located two minutes from Ryerson University and five minutes from the Eaton Centre, 252 Church will feature 681 residential suites, consisting of bachelor, one-bedroom, one-bedroom plus den, and two-bedroom suites.
The project is well placed for the city's ongoing tech boom, with major tech companies like Google, Amazon, and Netflix expanding and growing their presence with new downtown offices nearby.
Plans include 1672 m2 (18,000 sf) of amenity space, large outdoor space equipped with multiple BBQs and dining areas, 149 m2 (8700 sf) of office space, a spacious games room and lounge space to host family and friends, and a fitness centre including a CrossFit studio and a specially designed Peloton lounge.
Endnotes:
[Image]: https://www.constructioncanada.net/wp-content/uploads/2021/12/BC_CentreCourt.jpg
Source URL: https://www.constructioncanada.net/toronto-developers-unveil-their-new-high-rise-project-252-church-street/
---