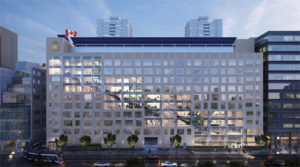 The Arthur Meighen Building in Toronto has been selected by the federal government as a pilot project for the Canada Green Building Council's (CaGBC's) zero carbon building initiative. The Dialog-led project will achieve its sustainability targets with geothermal heating and cooling systems and photovoltaic (PV) panels.
"This project embodies our commitment to improving how we manage energy performance of federal buildings," said Steven MacKinnon, parliamentary secretary to the Minister of Public Services and Procurement (PSPC). "Through this and other initiatives across government, we are taking steps to reduce our footprint and green our buildings."
A feasibility study determined the current building's greenhouse gas (GHG) emissions could be reduced by more than 80 per cent through deep-energy retrofits to the building envelope and systems. The 10-storey structure from the 1950s will undergo a major renovation to achieve the project's carbon neutral targets.
When complete, the building will serve as the Ontario region's main Government of Canada facility. The building changes will include new mechanical, electrical, life safety systems, seismic upgrades, a new roof, and an improved building envelope.
As part of the pilot program, and one of 16 selected to participate, the project team will receive guidance from CaGBC to meet the Zero Carbon Building Standard.