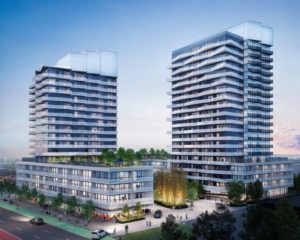 A new proposed development designed by WZMH Architects aims to address the housing crisis in Mississauga, Ontario, by providing rental housing to residents as part of an initiative to guide future urban growth within the region.
Spearheaded by real estate investment firm the Ahmed Group of Companies (Ahmed Group), the project is designed as a walkable community with a pedestrian-focused experience. It will offer ground-level commercial space for retail and office use to support current and future businesses in the area. Landscape architecture has been designed by the IBI Group Landscape Division.
The proposed development comes after a series of important steps taken by the City of Mississauga, the Region of Peel, and the province. If given the green light, two towers of 16 and 20 storeys over a four-storey podium will bring a total of 462 rental units to the city. Once completed, the transit-oriented, mixed-use development will feature apartments, greenspace, and an urban farm.
In June 2018, Mississauga city council endorsed the Dundas Connects Master Plan to establish a vision for the Dundas Street Corridor, supporting major improvements to transportation, sustainable transit-supportive development, intensification, and the public realm along the 19.5-km (12.12-mi) corridor.
"Our city is richly diverse, inclusive, vibrant, and growing. It is clear people want to live, work, and play in Mississauga," says Moe Ahmed, president and CEO of Ahmed Group. "My father came to this country as an immigrant to chase his dreams and raise his family here. I was born in Toronto, raised in Mississauga, and have never left. My wife and I are proud to live in Mississauga with our families. We want more families, seniors, students, and young professionals to have the opportunity to reside here."