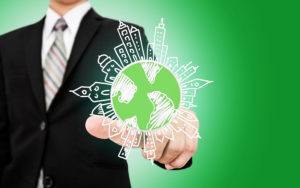 Canada Green Building Council (CaGBC) has released its list of the top five green building trends for 2018. The organization expressed an optimistic view as to how it believes the build industry will perform this year.
"As members of the Canadian green building industry, we see a fundamental shift happening in the way the built environment is perceived as a means to achieve emissions reduction targets," states CaGBC's official press release. "Add to this the introduction of new groundbreaking policies and legislation from governments at all levels, and we are looking at one of the most promising years for our industry in over a decade."
Zero-carbon not zero-energy
Transitioning to low- or zero-carbon construction is an essential aspect of sustainable building practices.
Going retro(fit)
Updating existing buildings and improving their energy efficiency will help Canada meet its long-term goal of reducing greenhouse gas (GHG) emissions.
The value of data
Analyzing available data and research will help identify areas for improvement and optimization.
Taking a holistic approach to sustainable building
A holistic approach appreciates the many interlocking reasons why green building practices are beneficial, such as preserving natural resources, reducing pollutants, and improving the health and happiness of citizens.
Accounting for the future
The introduction of carbon pricing nationally could be the most effective tool to distinguish high-performing buildings from their competitors.
To read more, click here.