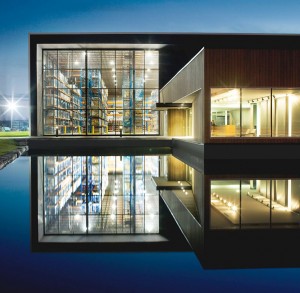 On Monday, some of the country's finest design teams were recognized with Governor General's Medals in Architecture for their work in notable projects.
His Excellency the Right Honourable David Johnston, governor general of Canada, presented the awards during a ceremony held at Rideau Hall. The winning projects from 2010 were:
• St-Germain Égoûts et Aqueducs—Allaire Courchesne Dupuis Frappier, architects (Montréal);
• French River Visitor Centre—Baird Sampson Neuert Architects (Toronto);
• Promenade Samuel-De Champlain—DAOUST LESTAGE inc. architecture design urbain (Montréal);
• Photographer's Studio Over a Boat House—gh3 (Toronto);
• Prefab Cottage for Two Families—Kohn Shnier Architects (Toronto);
• Royal Conservatory of Music, TELUS Centre for Performance and Learning—Kuwabara Payne McKenna Blumberg Architects (Toronto);
• La Grande Bibliothèque du Québec—Patkau/Croft Pelletier/Menkès Shooner Dagenais architectes associés (Vancouver);
• Prud'Homme–Dulude Residence, and Scandinave Les Bains Vieux-Montréal—Saucier + Perrotte architectes (Montréal); and
• Corkin Gallery, Craven Road Studio, and Ravine Guest House—Shim-Sutcliffe Architects (Toronto).
Created by the Royal Architectural Institute of Canada (RAIC) and administered by the Canada Council for the Arts (CCA), the Governor General's Medals in Architecture recognize "outstanding achievement in recently built projects by Canadian architects." For more information on the projects and teams, visitwww.raic.org and www.canadacouncil.ca.