Three Canadian cities commit to net-zero buildings
by nithya_caleb | August 24, 2018 12:00 am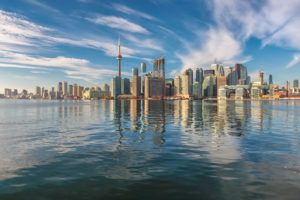 Three Canadian mayors, alongside 16 mayors from around the world, representing 130 million urban citizens, have committed to significantly cut greenhouse gas (GHG) emissions from their cities by ensuring new buildings operate at net-zero carbon by 2030. By signing the Net Zero Carbon Buildings Declaration[2], the leaders of Montréal, Toronto, and Vancouver pledged to ensure all buildings in the cities, old or new, will meet net-zero carbon standards by 2050.
Net-zero buildings use energy ultra-efficiently and meet any remaining energy needs from renewable sources. Such bold commitments, made ahead of the September Global Climate Action Summit[3] in San Francisco, are seen as essential steps in combatting climate change.
"We are excited to be signing the C40 Net Zero Carbon Emissions Declaration along with other major cities around the world. Vancouver's Zero Emission Building Plan will not only reduce GHG emissions from new buildings by over 60 per cent but is also driving our green economy with a 53 per cent increase in green building jobs since 2010," said Mayor of Vancouver Gregor Robertson[4].
Delivering on the commitments will require a united effort, as city governments do not have direct control over all the buildings in a city. This commitment includes a pledge to work together with state and regional governments and the private sector to drive this transformation, and calls on national governments for equal action. This pledge from cities is part of the World Green Building Council's[5] (WorldGBC's) Net Zero Carbon Building Commitment for Businesses, Cities, States and Regions.
Specifically, cities making this commitment will:
establish a roadmap to reach net-zero carbon buildings;
develop a suite of supporting incentives and programs;
report annually on progress towards meeting targets; and
evaluate the feasibility of reporting on emissions beyond operational carbon (such as refrigerants).
Further, the 16 cities commit to owning, occupying, and developing only assets that are net-zero carbon by 2030. To achieve this, cities will:
evaluate the current energy demand and carbon emissions from their municipal buildings; and
identify opportunities for reduction.
Leading up to the Global Climate Action Summit, C40 urged cities[6] to step up their climate action and ambition. This announcement is one of the city commitments under that initiative. C40 is a global network of large cities taking action to address climate change.
Endnotes:
[Image]: https://www.constructioncanada.net/wp-content/uploads/2018/08/bigstock-221634919.jpg
Net Zero Carbon Buildings Declaration: https://c40-production-images.s3.amazonaws.com/other_uploads/images/1850_NZC_Buildings_Declaration_FINAL.original.pdf?1530818527
Global Climate Action Summit: http://globalclimateactionsummit.org/
Gregor Robertson: https://vancouver.ca/your-government/mayor-gregor-robertson.aspx
World Green Building Council's: http://www.worldgbc.org/news-media/world-green-building-council-calls-companies-across-world-make-their-buildings-net-zero
urged cities: http://Leading%20up%20to%20the%20Global%20Climate%20Action%20Summit,%20C40%20urged%20cities%20to%20step%20up%20their%20climate%20action%20and%20ambition%20–%20today's%20announcement%20is%20one%20of%20the%20city%20commitments%20under%20that%20initiative.
Source URL: https://www.constructioncanada.net/three-canadian-cities-commit-to-net-zero-buildings/
---