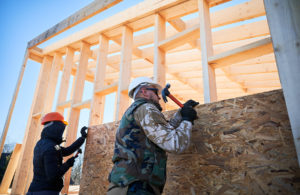 More than 15,000 carpenters in the industrial, commercial, and institutional (ICI) sector have gone on strike, leading to many delays for future construction projects across Ontario.
The Carpenter's District Council of Ontario (CDCO) and the United Brotherhood of Carpenters and Joiners of America (the Carpenters) have voted to reject their employers' last offer. As a result, the union's more than 15,000 members working under the Provincial ICI Collective Agreement went on strike as of May 9.
"Nobody wants to go on strike," said Mike Yorke, CDCO president and director of public affairs and innovation, "Our union hasn't been on strike in the ICI sector for 34 years but our members, from one side of the province to the other, have now voted overwhelmingly to tell their employers we want a fair deal.
"Carpenters, like other construction workers, kept working on jobsites to build critical infrastructure all the way through the COVID crisis. Their work was seen as essential during the pandemic and because of this, and because of spiralling cost of living increases, our union and our members believe wages now have to be increased."
According to a CBC News report, picket lines were put up across the province, and the union said it hopes to be back at the bargaining table on Thursday, May 12.
The Carpenters' Employer Bargaining Agency (CEBA), a negotiating committee made up of six employer organizations, said it is disappointed in the strike action. The agency said it hopes to talk to the unions to resolve the disagreement.
Rafael Gomez, professor of industrial relations and human resources at the University of Toronto, told CBC the strike has affected the building of hospitals, schools, and the expansion of public transit.
"In this case, the stakes are so high for these projects and there is money on the table," said Gomez in the report. "I think it has to get directed to the right places."