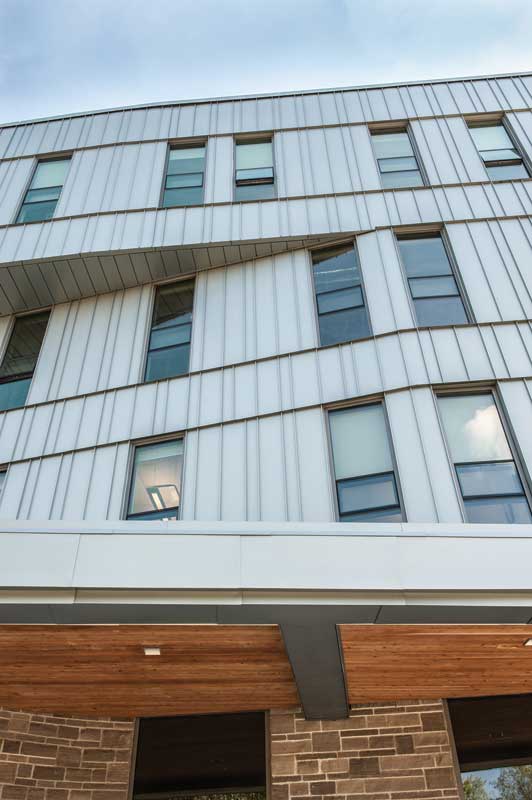 Zinc as a building material
As a building material, zinc is manufactured in continuous 1-m (40-in.) wide strips; it is shipped as flat sheet or rolled coils in 24, 22, 20, 18, and 16-gauge thicknesses. Generally, thinner material is used for wall tiles, roofing, gutters, and drainage products. Thicker material is fabricated into large-format wall panels.
Most material manufacturers support owners, architects, and contractors by offering in-depth information on material attributes and installation considerations, including:
selecting cost-effective wall systems;
detailing on a budget;
choosing efficient wall panel sizes; and
fabricating for efficiency.
Selecting a cost-effective wall cladding system
Zinc can be fabricated into various systems, most of which can be designed to be cost-effective. For example, zinc can be rolled-formed into various profiles and installed as wall cladding, utilizing the same detailing as other metals. The simple lap joints and large format of profile panels keep labour costs to a minimum.
Detailing on a budget
When it comes to applications such as standing-seam panels, the choice of details can significantly affect the price. For example, with a standing-seam façade panel, an outside corner can be detailed to have an exposed handcrafted seam termination, or panels can be simply and easily slid into a separate J-trim that caps off the panel ends to avoid expensive handwork. This type of detailing is common in North America and can be used with zinc.
Choosing efficient wall panel sizes
Efficient use of materials is another means to install zinc in a cost-effective manner. Panel sizes should be chosen on the basis of utilizing the full width of the sheet or coil to avoid generating any scrap material. Zinc typically comes in 1 or 0.5-m (40 or 20-in.) widths.
Fabricating for efficiency
The choice of fabrication techniques affects the cost. Roll-forming is always less expensive than break-forming. Corrugated, standing-seam, and flush seam panels are all systems that can be roll-formed. The more pieces that have to be installed, the more expensive the job—both in terms of fabrication and installation. To achieve engineering requirements and minimize oil-canning, smaller panels or heavier-gauge zinc may be necessary.
Zinc cladding choices
Light-gauge roll-forming equipment provides an economical way to fabricate interesting panel profiles such as standing seam and reveal panels. With the ability to alter the installation orientation to be horizontal, vertical, or diagonal, architects are able to achieve inspiring designs. Some other zinc profiles are discussed in the paragraphs that follow.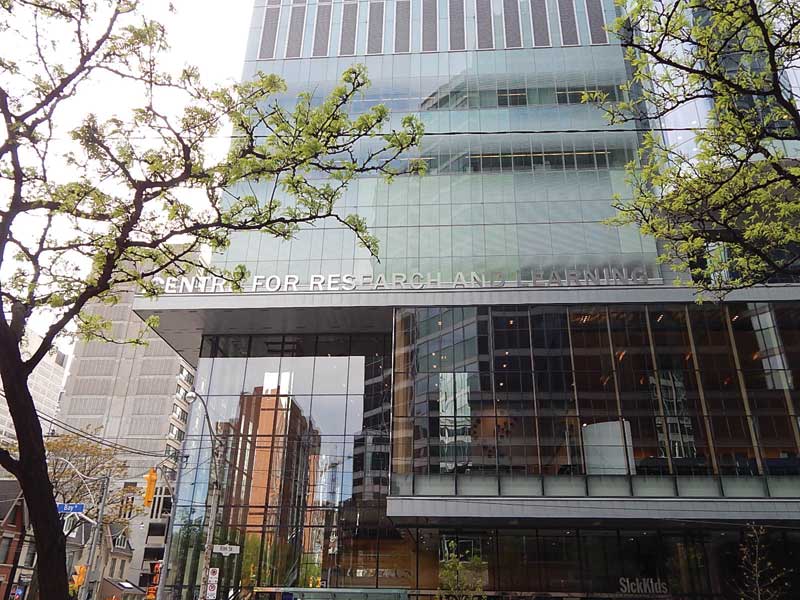 Corrugated
Common sinusoidal profiles have heights of 13, 19, and 22 mm (½, ¾, and 7/8 in.). The typical sine frequency of 7/8-in. high panels is 67.8 mm (2.67 in.). Trapezoidal profiles for wall applications vary widely in profile, but generally are deeper and higher (more than 25 mm [1 in.]) in section and offer a much stronger shadow effect. Either corrugated profile will provide the zinc sheet with greater rigidity and strength. Both the sine wave and trapezoidal corrugated profiles are an excellent way to maximize panel strength while minimizing metal cost with light-gauge zinc. Many of these profiles are available with concealed fasteners for wall applications.
Standing seam
Vertical standing seam panels using the single- or double-lock seaming method have long been used for roof applications. Using this profile on a wall surface with seams oriented horizontally (or vertically, for shorter panels) makes for a cost-effective zinc cladding system. Given the optimal drainage plane, the single or angle lock standing seam installation method is preferred, as it allows walls maximum horizontal panel movement. With 25-mm seam height, standing-seam pans are typically 305 to 424 mm (12 to 16.7 in.) wide. For zinc snap-seam profiles, one should consult the panel manufacturer for information regarding the acceptance of zinc specific to that seam type.
Flush/reveal panels
Architects looking for a monolithic, natural grey wall with minimal shadow lines often choose a flush (hairline joint) reveal panel. Similar profiles with extended 'male' lateral edges will create a reveal or recessed seam. Both profiles can be installed in a horizontal or vertical orientation. Shorter panels can be through-fastened at the bottom female's lock joint. Longer lengths (i.e. greater than 4 m [13 ft]) should employ a sliding clip to accommodate thermal movement.
To balance oil-canning and material cost, the face dimension (usually 203 to 305 mm [8 to 12 in.]) and material thickness (0.8 to 1 mm [0.03 to 0.04 in.]) should be co-ordinated. Panel end 'return' bends will stiffen the profile.
Interlocking flat-lock tile
Interlocking flat-lock tiles provide an easily installed dry-joint wall cladding solution. Interlocking tiles are a popular profile choice, with many sizes, shapes, metal thicknesses, and orientation patterns.
Flat-locks offer numerous design alternatives. Tiles can be fabricated into various shapes including rectangles, squares, and diamonds. (The time required to cut, notch, and fold interlocking tiles makes them more costly to fabricate than roll-formed profiles.) Indirectly attached with concealed clips, flat-lock tiles provide a low-tech profile with built-in expansion provisions at every joint.

Control the content you see on ConstructionCanada.net!
Learn More.