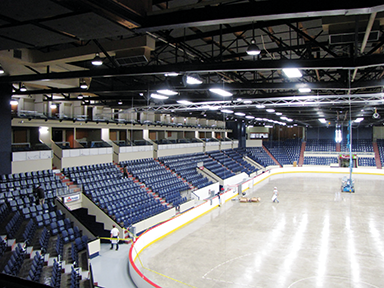 By Stephen Reynolds
In certain high-traffic applications, abuse-resistant gypsum boards can be cost-effective alternatives to concrete masonry unit (CMUs). These drywall products can contain specially designed fibreglass reinforcement that provides resistance to hard impacts and penetrations, contributing to overall durability and longevity of interior spaces in buildings.
Abuse-resistant walls make sense for schools, hospitals, hotels, and condos—virtually any space that may encounter less-than-gentle brushes with occupants. For high-traffic areas, or places with large, heavy equipment moving through, the use of abuse-resistant materials helps reduce the number of bruises interior walls reveal. Unfortunately, corner beads are often left out of the specification equation. Without appropriate corner beads, the intended impact-resistant wall assembly is inherently flawed, with its integrity diminished.
Why go through the effort of specifying abuse-resistant drywall when the selection of corner beads is left to the discretion of the installer? Architects know the quality of drywall is judged by the details of its corners. Are they a sharp 90 degrees? Are they cracking? Not only are corners among the first things people notice about a room, but they are also notorious for being the first element to falter in a wall assembly. Adding insult to injury, their repair is expensive, laborious, and frustrating to the building owner as well as installer. Failing corners leave a failing impression on a building's original design and build.
For a small investment in good corner beads—pennies per square foot—there is a big return via cleaner design and enduring performance. However, there still remains the matter of knowing which corner bead is right for the job.
Since corner beads are an esthetic, non-structural component of the overall wall system, the building codes do not require they conform to specific standards. The specification decision comes down to ease of installation and quality of material. The appropriate corner bead then is the one that is easy for the craftworker to manipulate and install in a precise manner. It should matter to the installer, the building owner, and the design professional.
Metal corner beads
Corner beads are an important component of a wall system because structurally the corner is where most of the damage occurs on drywall. The first attempt at reinforcement was the metal corner bead. This solution, which was introduced more than 60 years ago, remains a tool in installers' repertoire today due to its low upfront cost and familiarity.
The downside can be the nature of the material itself. Metal corner beads are installed by nailing or crimping them to wall studs and finishing with large amounts of joint compound. Unfortunately, without joint tape or a paper facing, the metal corner bead does not form a strong bond with the joint compound or wall. In the event of foundation movement, impact or wood stud shrinkage, the metal reinforcement is unlikely to resist this stress.
This movement can lead to cracks in the dried joint compound along the edge of the bead or nail pops. With the high impact some wall corners receive, metal corner beads often suffer dents, which blemish the drywall finish. Unsurprisingly, installer callbacks to jobsites for wall corner repairs are common for projects using traditional, bare-faced metal corner beads for reinforcement.
Paper-faced metal corner beads
Paper-faced metal corner beads were a step in the right direction as they help installers get around these issues. A paper metal corner bead is similar to its pure metal predecessor, but the paper face makes the surface of the corner bead smooth underneath. The paper is treated to withstand vigorous sanding for improved esthetics.
These paper-faced metal corner beads can be applied using a joint compound on the outside of the wallboard surface or passing the corner bead through a hopper. The bond is made on the paper surface so when something bangs into it, the corner is less likely to edge crack. However, it will still dent if hit hard enough. Paper-faced metal corner beads are cleaner-looking and easier with which to work.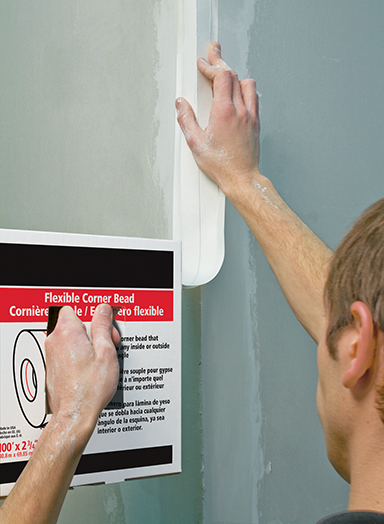 Paper-faced co-polymer corner beads
There are other paper-faced corner bead products that help produce stronger, more resilient corners through proprietary co-polymer configurations. The newest generation of corner beads, they complement the premium high-performance gypsum boards increasingly being specified. These corner beads come with a factory-applied paper coating that serves the purpose of paper joint tape, strengthening the bond with the wall to prevent edge cracking. While they use the same tools and techniques as other beads, they tend to be more user-friendly and require less filler material.
The co-polymer material also has the advantage of 'muscle memory.' In other words, these corner beads can bounce back from everyday impact whereas metal would absorb the impact and crack or dent.
Despite corner beads' omission from code requirements, Structus Building Technologies has independently tested co-polymer products to more clearly define their impact resistance. In the company's own testing, a 1.8-m (6-ft) length of galvanized metal corner bead was nailed through
13-mm (½-in.) drywall to 51 x 102-mm (2 x 4-in.) wood
studs. The corner bead was coated with all-purpose compound in accordance with the manufacturer's recommendations and allowed to dry for 72 hours.
A 1.8-m length of co-polymer corner bead was also applied to the same type of drywall and wood studs. The corner bead was coated with all-purpose compound in accordance with the manufacturer's recommended installation and allowed to dry over 72 hours. A 2.3-kg (5-lb) steel weight was then dropped from various heights directly onto the apex of each specimen to determine the resistance of each installed corner.
At 305 mm (12 in.), edge cracking about 76 mm (3 in.) in length was visible on one side of the metal corner bead. At
457 mm (18 in.), the same length of edge cracking was visible on both sides. The co-polymer corner bead, on the other hand, experienced no visible damage when the steel weight was dropped from 305 and 457 mm, or even at 610 mm (24 in.). At 762 mm (30 in.), there was a slight dent to the apex of corner.
This independent testing offers insight into the structural differences of metal versus co-polymer corner bead options. Anecdotal evidence from installers and building owners also supports these findings.
Co-polymer product options
Of course, nothing is one-size-fits-all, so manufacturers offer various paper-faced co-polymer corner bead options. While it may be enough to specify paper-faced co-polymer as a project's required style of corner bead, it is possible to be more specific.
Three options with which many craftsmen are familiar are mud-applied, water-activated self-adhesive, and mud-applied flexible co-polymer corner beads. The trio is all about the same cost, but can be two to three times the price of bare metal, depending on the region. However, beads are such a small percentage of the total drywall assembly's cost they are not even a rounding error on the total. When including the labour and warranty costs, they can be lower than the other technologies.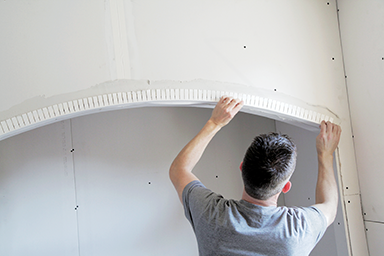 Mud-applied paper-faced co-polymer corner bead
Adhering corner bead to gypsum board with a continuous layer of joint compound makes a solid, straighter corner that resists the stresses of normal building movement and impact. Some of the most effective products used in this application consist of a co-polymer core laminated with paper.
Mud-applied, paper-faced metal corner beads are more common, but co-polymer cores offer more impact resistance and straighter lines than metal cores—they will not dent or break. So, while mud-applied metal corner beads can certainly minimize edge cracking, the co-polymer corner beads can actually eliminate the problem. Additionally, the co-polymer corner beads require only enough joint compound for adhesion and feathering edges, which saves significant installation time from fewer mud coats and faster drying time before moving onto the painting stage.
Water-activated self-adhesive co-polymer corner bead
These easily installed corner beads come with a paper-coated co-polymer core, treated with a strong water-activated adhesive that works just like the seal of an envelope. With this adhesive, the corner beads quickly form a strong bond with gypsum board and can be coated with joint compound within 30 minutes or less. Their high bond strength and robust paper-plastic-paper design provides a powerful defense against edge cracking, blistering, and bubbling.
Mud-applied flexible co-polymer corner bead
Sometimes a more flexible corner bead is needed to provide seamless, resilient reinforcement along both longer and more challenging angles in the wall. Flexible corner rolls typically feature a co-polymer or polyvinyl chloride (PVC) core that conforms to all inside and outside angles and creates crisp, straight lines. Therefore, it is especially suitable for use in off-angle corners, cathedral ceilings, and bulkhead applications.
As with all mud-applied beads, these flexible co-polymer corner beads are adhered to the wall with joint compound. Since they easily adjust to all angles, flexible corner beads eliminate the need for multiple-angle sticks and joints on longer runs.
Conclusion
Buildings designed to look good for the long haul include strong, beautiful wall systems. Such walls need solid corner beads for structural reinforcement and clean lines throughout rooms. High-performance paper-faced corner beads are the proper material to achieve these goals and should be included on a project's specifications.
While the upfront cost compared to traditional metal is higher, it is a small figure relative to the overall budget. It will also ultimately save money on cracked and bruised corners and contribute to the perception the building is structurally sound and well-designed.
Palais des Sports Léopold-Drolet de Sherbrooke

Abuse-resistant gypsum board has contributed toward a more sustainable and durable interior for the Palais des Sports Léopold-Drolet de Sherbrooke—a 47-year-old multi-purpose sports arena. The recently completed remodel is the first project in Québec to feature this particular wall material, which also actively removes volatile organic compounds (VOCs) circulating indoors and traps them inside the board.
"It was an ideal product choice, considering the arena's large crowds and activity level," said Nicolas Bilodeau of Bilodeau Baril Associés Architectes. "Sustainability goals were important, but we also had to make sure the gypsum specified would meet the performance demands of the design."
Construction Guy Sebas Inc., the project's general contractor, used approximately 1600 sheets to outfit much of the interior of the building, which has a capacity of more than 5000 people.
"This project went well due to the fact the installer didn't need to glaze, or skim-coat, the surface with ready-mix before application, which saved on labour costs," said Pierre Lemay, a principal with the company.
The newly remodeled arena is now home to the Sherbrooke Phoenix, the newest franchise of the Québec Major Junior Hockey League. To better accommodate the team, the renovation also included the addition of 32 luxury boxes, 18 galleries, and an increase in general seating, for a total of 4328 seats. Terraces were also constructed, and the concessions area was given a facelift as well. Work was complete this past summer, with the Phoenix playing their first game in August.
Stephen Reynolds is the marketing and business development manager for CertainTeed Gypsum. He holds an MBA from Wilfrid Laurier University (Waterloo, Ont.). Beginning as a contractor, Reynolds has been in the building industry for more than 25 years. He can be contacted via e-mail at stephen.reynolds@saint-gobain.com.

Control the content you see on ConstructionCanada.net!
Learn More.